Sponsored Section

Edward M. Penick, III, MD

TLC Laser Eye Centers - Little Rock
(866) 326-2010

10809 Executive Center Drive
Suite 201
Little Rock, Arkansas 72211
Laser Vision Correction at TLC Laser Eye Centers in Little Rock, Arkansas - Read our Patient Reviews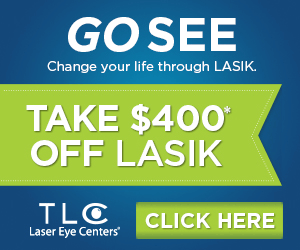 TLC Laser Eye Centers of Little Rock offers conventional, Custom, and Bladeless LASIK eye surgery. Conventional LASIK is the most common type of laser vision correction and has proven to be extremely effective for the correction of common vision errors. CustomLASIK utilizes wavefront-guided technology and is selected by many patients to correct their vision. The curvature of the eye is unique for each patient and is like an eye fingerprint. During CustomLASIK, a precise measure of the eye fingerprint is made and an individualized laser beam is created to correct each eye. TLC Little Rock is the only center in Arkansas to offer Bladeless LASIK, in which a computer-guided laser is used to create the corneal flap. Bladeless LASIK eliminates the handheld microkeratome, for a 100% blade-free LASIK experience. Dr. Penick and the TLC Laser Eye Center staff meticulously evaluate each patient to determine the best option for laser vision correction surgery.
To determine if you are a candidate to eliminate your dependence on glasses or contact lenses, contact TLC Laser Eye Centers – Little Rock at (866) 326-2010 to schedule a free LASIK evaluation and discuss your treatment options, including their potential cost, or book online at www.TLCVision.com.
More About The TLC Laser Eye Centers of Little Rock Eye Doctor
Edward M. Penick, III, MD, specializes in laser vision correction procedures, cataract surgery and medical and surgical treatment of glaucoma. He has been performing refractive surgery procedures since 2005. In addition to treating eye care patients, Dr. Penick remains active in clinical research.
Dr. Penick obtained his undergraduate degree at Davidson College in North Carolina and his medical degree at the University of Arkansas for Medical Sciences. He completed his residency in ophthalmology at the University of Missouri, Kansas City, where he served as Chief Resident. Dr. Penick maintains active memberships with several professional organizations, including the American Society of Cataract and Refractive Surgery, the American Academy of Ophthalmology, the Arkansas Ophthalmological Society and the Arkansas Medical Society.
Visit www.LASIK.com to find out more about LASIK eye surgery.
Read our Patient Reviews
Check out all the latest patient reviews for Dr. Edward M. Penick and the rest of the team at TLC Laser Eye Centers of Little Rock: