LASIK Cleveland - Serving patients seeking LASIK eye surgery in Cleveland and the surrounding area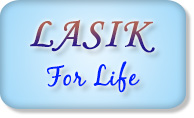 Gregory A. Eippert, MD, is a leading Cleveland LASIK provider, board-certified ophthalmologist and the founder of LASIK Vision Centers of Cleveland. He has more than 15 years of LASIK experience, as well as nearly two decades of experience in other types of refractive surgery, cataract surgery and glaucoma surgery. Thousands of patients, including optometrists and television and radio personalities, trust Dr. Eippert for their laser vision correction needs. Together with his outstanding staff at LASIK Vision Centers of Cleveland, Dr. Eippert is dedicated to providing the highest quality eye care and exceptional laser eye surgery results.
At LASIK Vision Centers of Cleveland, Dr. Eippert is committed to providing Cleveland laser eye surgery patients with the latest technological innovations in the industry. In addition to performing custom bladeless LASIK procedures, Dr.
Eippert also offers PRK for those seeking laser vision correction in Cleveland and the surrounding area.
Custom Lasik Technology
To find out more about your laser vision correction options or to schedule a one-on-one consultation with Dr. Eippert, please contact LASIK Vision Centers of Cleveland at (855) 742-1175 today.
More About Vision Correction at LASIK Vision Centers of Cleveland
Watch this video to learn more about LASIK Vision Centers of Cleveland.
Dr. Eippert utilizes only the latest laser technology for all aspects of LASIK surgery. His commitment to employing the most advanced and accurate laser technology is exemplified by the fact that he was the first eye surgeon in Cleveland and the second in Ohio to own a custom femtosecond laser for cataract removal surgery. This dedication to offering innovative technology also applies to his LASIK procedures.
To begin the LASIK procedure, Dr. Eippert employs the bladeless Intralase laser to create a flap in the cornea. He then gently lifts the flap to access the underlying corneal tissue. Next, the eye surgeon utilizes the Allegretto Wave excimer laser to re-contour the corneal tissue, correcting the refractive error that is causing nearsightedness, farsightedness and/or astigmatism. Once Dr. Eippert is satisfied with the newly shaped cornea, he lays the corneal flap back down in its original position where it naturally re-bonds to the eye.
LASIK surgery is a quick and easy procedure. It takes about 15 minutes to treat both eyes, and patients of Dr. Eippert do not typically feel any pain during the LASIK procedure. They notice an improvement in their eyesight within one or two days, and many find that they no longer need to rely on clunky prescription glasses or slippery contact lenses to see clearly. Not to mention, more than 98 percent of patients achieve 20/20 vision following LASIK in Cleveland.