How Soon can I Drive after Cataract Surgery?
Written by Dr. David Evans Last modified on April 22, 2019
When it comes to cataract surgery, prospective patients are invariably drawn to questions related to the cost of treatment and the recovery process. With that in mind, I thought I'd devote this post to answering a specific recovery question people seem to ask me time and time again: How long after cataract surgery can I drive again?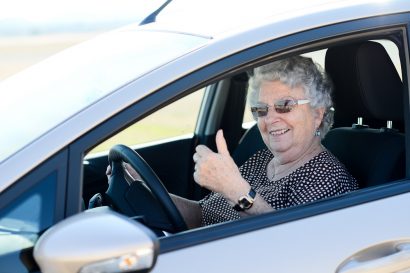 The surgery requires anesthesia, which means you will not be allowed to drive home after treatment. (In fact, you can't even take a cab home after surgery.) It's not that you should expect to be utterly debilitated after being treated. It's simply a matter of precautionary regulations dictating standards eye care facilities must adhere to. One of these standards requires that patients be released to the care of a friend or relative that can stay with the patient to ensure there are no immediate side effects (however rare) from the surgery or anesthesia.
You're probably not surprised to hear that you can't drive yourself home from the surgery, but what about the bigger question of when exactly you can drive again? The answer is… it depends.
The day after surgery you will have a follow-up visit with your surgeon, who will evaluate your recovery and test your vision. Typically, vision is greatly improved immediately after surgery. For driving, the minimal amount of time before you should be OK to drive is 24 hours after the fact, though you are strongly advised to wait for confirmation from your doctor based on your follow-up examination. Everyone reacts differently to cataract surgery, so some people might recover more quickly than others. Your doctor may advise you to avoid driving for a longer period of time, just to be safe. This means you should plan on having someone to drive you at least two times: to your home immediately after surgery, and back to the doctor's office the day after for your follow-up visit.
Keep in mind that cataract surgery has proven to be an extremely safe and effective restorative procedure, with more than 3 million surgeries performed each year in the U.S. alone. Often requiring 15 minutes or less, recovery tends to be smooth and trouble free. You may be required to wear a protective eye shield for a few days after surgery, and it may take a week or so for your vision to completely adapt. If you have any questions or concerns, you should speak with your eye doctor immediately.
References:
Mayo Clinic
American Optometric Association