Choosing the Best Surgeon for LASIK (and you)
Written by Dr. David Evans Last modified on April 22, 2019
So you've made the decision to get LASIK surgery. Congratulations, that's half the battle. The other half comes with choosing the best surgeon to perform the procedure.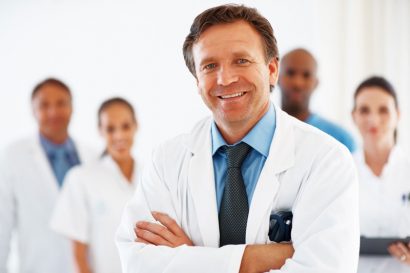 Electing to the have LASIK surgery is daunting enough, let alone taking the time to evaluate all your local surgeon options. You might be tempted to play a game of "eeny meeny miny mo," but I'm here to tell you there's a better way. Use some of the simple guidelines listed below to help you identify the best
surgeon for you.
Board Certification: Is the surgeon certified by the American Board of Ophthalmology? Experience is everything and this sort of certification suggests a certain level of expertise.
"FACS" Designation: Is the surgeon a fellow of the American College of Surgeons (ACS)? Surgeons with a FACS designation must adhere to a particular code of ethics and conduct that holds them to a higher standard of practice. Only board-certified surgeons can earn the FACS designation.
Online Reviews: We're living in the age of the review. Whether it's a restaurant, a car, a hotel or LASIK surgeon, there is no shortage of public opinion. Sites like Yelp and Angie's List can help you get a feel for a surgeon from people who have already undergone treatment. However, take these reviews with a grain of salt as there is no way to align your expectations with those of a stranger. Also, review fraud (positive and negative) is rife and can be misleading. Online reviews can and should be used to help you gauge your options, but they should not necessarily be your determining factor.
Referrals: Before the Internet, we primarily relied on word-of-mouth recommendations and referrals. They may have taken something of a backseat to the ease-of-access that comes with online reviews, but traditional referrals are nonetheless powerful. Perhaps your eye doctor refers you to a LASIK surgeon, or a friend or family member has had a positive experience with someone they recommend. These recommendations from trusted sources are as powerful as it gets.
Equipment: Let's say you've got it narrowed down to two LASIK surgeons and you're looking for a determining factor. If one of the surgeons offers bladeless all-laser LASIK (no microkeratome) that might be enough to sway you. Technology is always evolving and improving. If this is important to you, make sure that the practice you choose invests in these new technologies.
Staff: Not all vision center staffs are made the same. When comparing LASIK surgeons, it's important to keep the staff in mind as well. Are they courteous, accommodating and accessible? The last thing you want to deal with is an inattentive group of people not interested in helping you.
Shop Around: The only way to truly measure whether an eye surgeon or practice is best for you is by comparison. Set up multiple consultations so that you can get different perspectives about your treatment, weigh cost differentials, experience various practice environments and more. They want your business, so you should be able to schedule consultations with ease.
Quality Guarantee: Does the surgeon guarantee your satisfaction? Not every surgery goes off without a hitch, and revisions can and will be needed in some cases. The question is, will the surgeon commit to providing you with satisfactory results you expect at no additional cost? During your consultation, it's important that this point is made clear. The cost of revision surgeries can add up.
Of course there are other driving factors when it comes to choosing a LASIK surgeon (location, cost, availability), but don't be so quick to discount some of the factors listed above. Just because one surgeon is conveniently located near your house, or is offering the surgery at half the cost of another, perhaps more reputable option, doesn't mean that it's necessarily the best choice for you.
The more time and consideration you take with selecting a LASIK surgeon, the happier you're likely to be with the experience and outcome.