Choosing the Best Surgeon for Cataract Surgery (and you)
Written by Dr. David Evans Last modified on April 22, 2019
Cataract surgery is more popular than ever these days as people over the age of 45 seek to correct cloudy vision associated with cataracts. If you're considering treatment, selecting the best surgeon for your needs can be a daunting task given the number of options out there. Considerations include a surgeon's experience, the location of the practice, the technology used, and (of course) the cost of surgery.
I wrote a post a little over a year ago about choosing the best LASIK surgeon and we received positive feedback. So I thought it would be helpful to put together a similar post for choosing the right cataract surgeon.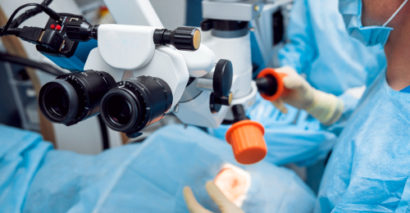 Here are 7 things to consider:
1. Eye Doctor vs. Eye Doctor
One of the first things to understand is that not all eye doctors can perform eye surgery. Ophthalmologists are MD's (medical doctors) who are qualified and certified to perform surgery. Optometrists are OD's (Doctors of Optometry) who are qualified to perform eye exams and vision tests, but cannot perform cataract surgery. However, OD's often work with ophthalmologists to perform screenings and post-operative care.
2. Board Certification
One of the most basic things to look for when evaluating a cataract surgeon is whether he/she is certified by the American Board of Ophthalmology (ABO). The ABO sets rigorous standards its members must meet for certification. It therefore reflects a particular level of distinction and experience that should be top of the list when evaluating an ophthalmologist for cataract surgery.
3. Online Reviews
Whether you're evaluating a restaurant, searching for a hotel, or trying to choose a cataract surgeon, reviews play an increasingly essential role. Sites like Yelp, HealthGrades, RateMDs and even Google are packed with surgery reviews from past patients; some happy, some not-so-much. It can be somewhat overwhelming to evaluate reviews posted by strangers, so it's important not be overly reliant on reviews alone when choosing a surgeon. However, reviews can provide a broad sense of the satisfaction patients have with specific surgeons and practices.
4. Referrals
Although it's true that reviews have somewhat displaced personal referrals as a primary research tool when consumers are selecting surgeons, mouth-to-mouth referrals continue as an invaluable tool in the decision making process. Given the prevalence of cataract surgery, it's highly probable that you know one or more people who have already had treatment. Speak with these trusted friends/family members about their experience and whether or not they would recommend their surgeon. As with reviews, you should not let a friendly referral be your sole determining factor, because of course, every patient is different and often require different types of treatments. But, when combined with additional research, the referrals can serve as the best sort of scale-tipping piece of information.
5. Technology
In today's environment, the technology used by the surgeon should be a key piece of the decision making process. The number of choices abound and there are a few key points to consider. First, determine if you are  interested in a more conventional intraocular lens (IOL) that caters exclusively to distance vision (requiring reading glasses after surgery for near vision) only or if you are interested in a more modern alternative like presbyopia-correcting IOLs that correct vision across all distances? Most people today are looking to rid themselves of the hassles associated with eyeglasses for both near and distance vision, and are therefore keen on investigating the latter. However, not all cataract surgeons offer the more modern, presbyopia-correcting option. Be sure to inquire as to the type of equipment and technologies available during your consultation or through the practice contact form. If you're interested in presbyopia correction, the approved IOLs include AcrySof IQ ReSTOR, Crystalens and Tecnis Multifocal.  I wrote a post about the most recently approved IOL, Symfony lens, for correcting presbyopia. It pays to learn about all of these lens options when making the decision.
Many cataract surgeons have also added laser cataract surgery technology to their repertoire. If you choose a surgeon who offers a new technology IOL, it often is best to combine this lens with laser cataract surgery in order to obtain the best vision outcome.
6. Consultations
Most cataract surgery consultations are provided free-of-charge, so don't shy away from meeting with multiple surgeons as part of your process. This affords you the opportunity to have a one-on-one dialogue with the surgeon to ask specific questions and get a sense of his/her "bedside manner." If you meet with an OD to research your options about cataract surgery, you may want to ask to meet the surgeon to make your final decision.  It also gives you the opportunity to visit the treatment center and meet the staff, both of which can be important factors in the process. Discourteous or inattentive staff can make the treatment experience and subsequent follow ups tedious regardless of the visual outcome, so it's important that you feel comfortable with the entire staff, not just the surgeon.
7. Cost and Insurance
Two rather predicable considerations for selecting a cataract surgeon are whether or not your insurance coverage (or Medicare) is accepted at a given practice, and what the cost of the treatment is likely to be. The cost of cataract surgery can fluctuate significantly based on a variety of factors, notably the location of the practice. Facilities in locations like Beverly Hills or Manhattan have higher overhead than those located in more remote areas, meaning that treatment cost there will be inflated. For this reason it's important to shop around and evaluate all your options. Some people are willing to travel farther than others for the sake of a good deal on treatment. For others, convenience is more important than cost. Either way, it's important to identify what the cost of treatment is, and how it compares to your other options. Also, keep in mind that laser cataract surgery and newer technology IOLs require an extra cost beyond that which is reimbursed by insurance or Medicare.  Be prepared to pay out of pocket for these surgical options.
When it comes to choosing the best cataract surgeon, the most important thing is to not rush to a decision. Investigate your options and perform your due diligence to ensure that you are completely comfortable with your eye surgeon. We are talking about your vision after all. So err on the side of caution and spend as much time as is necessary to make the right choice.