David Evans, PhD, MBA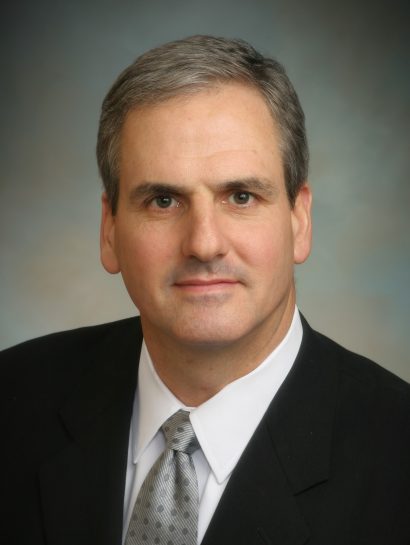 David Evans, PhD, is an internationally recognized expert in vision correction surgery, eye physiology and vision testing technology. He received his Bachelor of Science degree in Human Factors Engineering from the United States Air Force Academy, a Master of Science degree and Masters in Business Administration from Wright State University in Dayton, OH, and a PhD in ocular physiology from Indiana University. He has been asked to speak around the world about his studies and research findings, including at conferences in Beijing, Tokyo, Istanbul, London, Paris, Toronto and numerous cities throughout the United States. Dr. Evans pioneered the use of standardized vision testing and his testing methodologies have been adopted for use in more than 50 FDA clinical trials.
Dr. Evans began his scientific career as an Air Force officer conducting ground-breaking research studies into vision performance for pilots, astronauts and drivers. He published the first papers showing how to improve the standard acuity test — the Big E Chart — to create better measures for evaluating fighter pilots and determining nighttime highway sign visibility for older drivers. He went on to study the physiology of eye diseases, including glaucoma and diabetes, at Indiana University Schools of Medicine and Optometry. He then accepted a faculty position at University of Alabama Birmingham (UAB) School of Optometry where he focused his research primarily on newly diagnosed and previously untreated glaucoma patients. He also has participated in numerous studies evaluating virtually every new advance in vision correction surgery, including RK, PRK, LASIK, multifocal IOLs, toric IOLs, corneal inlays, contact lenses and many others.
Dr. Evans' understanding of vision testing requirements and protocols led to his inclusion as part of the FDA Committee on Vision Standards. He has served as a consultant for numerous multinational companies, including Alcon, Abbott, Bausch and Lomb, Vistakon, Pharmacia, Otsuka Pharmaceuticals and many others. He has also testified as an expert for the FDA, including testimony which helped achieve the approval in the United States of the first cornea-based presbyopia correction technique, the Kamra Inlay. He serves as an expert witness for legal proceedings in both state and federal jurisdictions.
In addition to publishing three book chapters and more than 30 scholarly research papers, Dr. Evans holds seven patents related to optical devices and vision testing, two of which are the basis for instruments that eye doctors use for testing patients' vision: the MCT-8000 (Vistech Consultants Inc.) and the CSV-1000 (VectorVision Inc.). His instruments are used by eye doctors in more than 60 countries, incorporated as part of athlete evaluation at the Olympic Vision Centres and included as part of screening for numerous professional baseball teams.
It has always been his opinion that education is the best way for patients to stay healthy. The maintenance of excellent eye health and good vision is extremely important as vision impacts all aspects of everyday life. Dr. Evans has a keen understanding about how new research and new technology can impact the vision of people around the globe and he uses this understanding to help educate people about their vision. Through his writings he shares his knowledge with visitors to Better Vision Guide. Please return to our site on a regular basis to learn about the newest happenings in eye conditions, eye health and treatment technologies.
Dr. Evans was elected to the Board of Directors and appointed Chief Science Officer of Guardion Health Sciences, a healthcare company specializing in macular health and evidence-based treatment protocols. Dr. Evans also owns equity in Guardion.
If you have a question for Dr. Evans or if you would like to suggest a topic of interest for our site, please let us know.
Research/Scientific  Experience 
1998 –  2000     Research Assistant Professor, University of Alabama at Birmingham, School of Optometry
1993 – 1998 Ph.D. Candidate at Indiana University,  School of Optometry and Department of Ophthalmology.
1987 – 1993 VectorVision Inc. Founder and Director of Research and Development.
1983 – 1987 Vistech  Consultants Inc.  Co-Founder, President and Director of Product Development.
1982 – 1983 Instructor of Behavioral Sciences/Human Factors Engineering, United States Air Force  Academy.
1978 – 1982 Scientific Investigator, Aerospace Medical Research Lab, Wright-Patterson Air  Force Base, Dayton, OH.
Faculty Positions
 Full Time Faculty
1998-2000 University of Alabama Birmingham
1982-1983 United States Air Force Academy, Dept of Behavioral Sciences
Adjunct Faculty
 1990-1992 University of Dayton, School of Arts and Sciences, Dept of Mathematics
1985-1986 Wright State University, School of Business, Dept of Management Science
Patents
"Method and Apparatus for Vision Acuity Testin" Patent No 10,022,045, 17 Jul 2018. (Basis for electronic version of CSV-1000 standards contrast sensitivity test)
"Method and Apparatus for Vision Acuity Testing" Patent No 10,016,128, 10 Jul 2018. (Basis for AcQviz device to be manufactured starting in 2019)
"Self-Calibrating  Vision  Test  Unit. " Patent  No.  5078486, 7  Jan 1992.  (Basis  for  CSV-1000  currently  manufactured by VectorVision.)
"Apparatus  and  Methods for Testing Visual Sensitivity to Glare." Patent No. 4800404,  24  Jan 1989. (Basis for MCT-8000 currently manufactured by Vistech Consultants Inc.)
"Real-Time  Optical Filter System with  Spatial and Temporal Enhancement of Visual Information." Patent No. 4453804. 12 Jun 1984.
"Varying Bandpass  of Optical  Spatial Filter  by  Rotating Mirrors Having Changing Reflectivity." Patent No. 4448486. 15 May 1984.
"Real-Time Optical Filtering Methods with Improved Filtered Image Detection and   Bandwidth  Adjustments."  Patent  No. 442663. 27 Feb 1984.
Book Chapters
Harris A, Evans D, Martin B. "Individual responsiveness to ocular vasodilatation." In Vascular Risk Factors and Neuroprotection in Glaucoma. Ed Stephen M. Drance. Kugler Publications, New York,  1997. pgs 105-114.
Boxer Wachler B, Evans D, Krueger R. "Advanced Visual Function Testing in LASIK." In LASIK. Ed Ioannis G. Pallikaris and Dimitrios S. Siganos. Slack Publications,  Thorofare, New Jersey, 1997. pgs 319-330.
Evans D. "Blood Flow in Glaucoma."  In Primary Care Glaucoma. Ed. M Fingeret. Slack Publications. 2002.
Selected Publications
Evans D, Wang Y, Thibos, L. Effect of sampling array irregularity and window size on the discrimination of sampled gratings. Vision Research 50 (2010) 20 – 30.
Evans D, Bartlett J, Houde B, Than T, Shaikh A. Latanaprost-induced Stabilization of Central Visual Function in Patients with Primary Open Angle Glaucoma. J Ocular Pharmacology and Therapeutics. Oct 2007.
 Evans D, Gherghel D, Bartlett, Hosking S. Contrast Sensitivity Improves Following Brimonidine Therapy in Primary Open-Angle Glaucoma: A Case for Neuroprotection? Brit J Ophthalmol. 87: 1463-1465. Dec 2003.
Harris A, Evans D, Martin B, Zalish M, Kagemann L, McCranor L, Garzozi H. Nocturnal blood pressure reduction: effect on retrobulbar hemodynamics in glaucoma. Graefe's J Ophthalmol. 240 (10): 867-868. Oct 2002.
Evans D, Hosking S, Morgan A, Embleton S, Bartlett J. Fourier Spectral Components of the IOP Pulse-Wave In Glaucoma. Graefe's J Ophthalmol. 240: 475-480 2002. Jun 2002.
Hosking S, Evans D, Embleton S, Houde B, Amos J, Bartlett J. Hypercapnia invokes an acute loss in contrast sensitivity in untreated glaucoma. British Journal of Ophthalmol. 85: 1352-1356. Oct 2001.
Schwartz B, Takamoto T, Harris A, Evans D. Ocular Circulation Map. Acta Ophthalmol. March 2000.
Evans D, Harris A, H. S. Chung, Cantor L. Primary Open Angle Glaucoma Patients Characterized by Ocular Vasospasm Demonstrate a Different Ocular Vascular Response to Timolol Versus Betaxolol.  J Ocular Pharm Therap. 15(6):479-488, 1999.
Evans D, Harris A, Garrett M, Chung H.S. Glaucoma Patients Demonstrate Faulty Autoregulation of Ocular Blood Flow During Posture Change. Brit J Ophthalmol. 83: 809-813, 1999.
Chung H.S., Harris A, Evans D, Kagemann L, Garzozi H, Martin B. Vascular Aspects in the Pathophysiology of Glaucomatous Optic Neuropathy. Surv Ophthalmol. 43: S43 – S 50, 1999.
Evans D, Harris A, Chung HS, Cantor L, Garzozi H. The Effect of Chronic Hypotensive Therapy on Ocular Hemodynamics in Primary Open Angle Glaucoma: Non-Selective Beta Blocker. J Glaucoma, 8: 12-17, 1999.