LASIK in Burbank / San Fernando Valley – LASEK, Epi-LASIK and PRK
9100 Wilshire Blvd., Suite 265 E
Beverly Hills, California 90212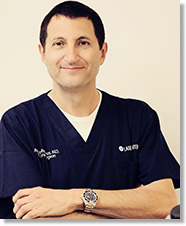 5363 Balboa Boulevard, Suite 141
Encino, California 91316

If you are interested in receiving information on how to be listed in this LASIK Surgeon Directory, please call 858-454-5505 or email us.
LASIK in San Fernando Valley – Leading Encino and Burbank LASIK Surgeons
Aggressive advertising and pervasive commercials promising LASIK at discounted prices might make it difficult to determine who is a truly skilled LASIK surgeon and who is not. This directory was created to help potential LASIK patients find experienced, reputable LASIK surgeons. All of the listed Encino / Burbank LASIK surgery specialists are board-certified ophthalmologists. This is a prestigious recognition that is bestowed only upon ophthalmologists who have graduated from accredited medical schools, successfully completed an internship and a residency, and passed a number of thorough examinations. In addition, this certification ensures that the surgeon possesses an excellent professional record and attends continuing education courses every year. In addition, all of the Burbank / Encino LASIK surgeons featured in this directory are dedicated to delivering highly rewarding vision correction outcomes for all of their patients. This is why they perform thorough pre-surgical evaluations, customize each treatment, and conduct detailed follow-up vision exams.
Laser Eye Surgery and Cataract Surgery
As highly experienced surgeons, these San Fernando Valley LASIK specialists recognize that LASIK is not for everyone. This is why they tell some patients that it would be best if they did not undergo LASIK but pursued a different procedure instead. Some of the LASIK alternatives include LASEK, Epi-LASIK, PRK and refractive lens exchange. In addition, cataract patients can improve their visual acuity by undergoing cataract surgery, during which their clouded natural lenses are removed and sophisticated artificial lenses are inserted in the eyes. The artificial lenses function similarly to contact lenses but cannot be felt by the patient or noticed by others.
Consulting With Other Elective Procedures Specialists in Burbank / Encino
San Fernando Valley is a popular destination for traveling LASIK and cosmetic surgery patients. The sunny Southern California valley located next to some of the more spectacular Los Angeles entertainment venues provides for a perfect place where to "try out" the newly improved vision. In addition, Encino and Burbank offer charming downtowns to explore and numerous comfortable hotel accommodations where visiting patients can recover from various plastic surgery procedures, such as facelift, rhinoplasty, breast augmentation or tummy tuck.
If you are interested in receiving information on how to be listed in this LASIK Surgeon Directory, please call 858-454-5505 or email us.