More About Laser Eye Center of Carolina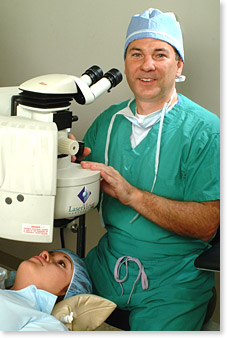 Demetrian (Dean) I. Dornic, MD, is a board-certified ophthalmologist who is one of Carolina's most experienced and qualified refractive surgeons.
Thousands of patients from Carolina and the Southeastern United States have sought Dr. Dornic's skilled hands for the correction of nearsightedness, farsightedness, and astigmatism. He stays on the cutting edge of advancements in vision correction surgery, being the first Raleigh-area ophthalmologist to provide Intacs, LTK, and the Verisyse lens. He is a fellowship-trained corneal specialist who has published numerous scientific articles and is a coveted speaker at ophthalmology meetings in the United States and abroad.
Dr. Dornic has been selected as one of "America's Top Ophthalmologists" by Consumer's Research Council of America and was selected as a VISX Star Surgeon, an honor given to the top 100 LASIK surgeons by VISX. The goal of Dr. Dornic and his Raleigh LASIK staff is to provide each patient with the excellent vision he or she wants with attentive and personal care.
To eliminate your dependence on glasses or contact lenses, contact our offices for a free consultation at (919) 467-9955.
Dr. Dean Dornic has invested in technology that not all vision correction surgeons use, but he knows that the results are well worth it.