More About Carolina Vision Center's Surgery Center
Michael G. Woodcock is a highly experienced board-certified ophthalmologist who specializes in vision correction surgery. He is a leader in the Carolina region for advancements in eye surgery. He was the first surgeon in Fayetteville to perform LASIK for the correction of hyperopia and astigmatism and the first certified Crystalens and ReZoom surgeon in North Carolina. He was also selected as one of only thirteen primary investigators in the breakthrough FDA clinical trial that led to the approval of LASIK surgery in the United States. He has performed over 21,000 LASIK procedures, over 22,000 refractive cataract surgeries, over 2,000 multifocal implants, and over 1,500 RK/AK/ALK/Intacs/transplants. Overall, Dr. Woodcock has performed more than 46,500 refractive cases.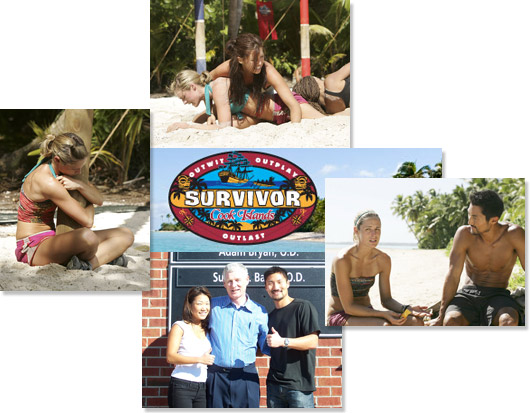 Dr. Woodcock performed LASIK for several of the Cook Islands Survivors. He is proud of his daughter, Candice, who was a Survivors contestant.
Dr. Woodcock is a skilled implant surgeon, specializing in the most advanced implant technology. He is also among the world's most experienced Tecnis Z9001 IOL (Wavefront corrected) surgeons. Dr. Woodcock has been named one of "America's Best Ophthalmologists" since 2004.

Dr. Woodcock shared his experience with upcoming eye surgeons as a Clinical Assistant Professor of Ophthalmology at the University of North Carolina, School of Medicine from 1998 until 2002. He is a coveted speaker who lectures widely to other eye surgeons about advancements in vision correction surgery, both at national and international meetings. At the Carolina Vision Center, Dr. Woodcock brings together state-of-the-art laser equipment, comprehensive surgical skill and experience, and a commitment to provide optimal vision results for each patient.
If you would like to learn more about eliminating your dependence on glasses, bifocals, or contact lenses, contact Carolina Vision Center at (800) 724-6628 to schedule a consultation.
More About Carolina Vision Center's Surgery Center
Dr. Woodcock is the medical director and chief surgeon of the Carolina Vision Center's Surgery Center. He personally handpicks and trains each staff member to provide the highest quality care. For LASIK surgery, he uses the VISX Star S4 wavefront guided and Allegretto custom laser systems. Each eye has a unique curvature, which is like the "fingerprint" of the eye. The VISX system provides a highly accurate measure of this eye fingerprint and creates a customized laser beam to correct each eye individually. Dr. Woodcock also offers PRK for laser vision correction of nearsightedness and CK surgery (conductive keratoplasty) for the correction of presbyopia.
Carolina Vision Center is now one of approximately five vision care clinics in the United States and the only clinic in the state of North Carolina to offer the Da Vinci Bladeless LASIK procedure. With the state-of-the-art Da Vinci laser, LASIK is now safer, more advanced and more accurate than ever. Patients experience a faster healing period and quicker visual recovery with the bladeless procedure when compared to traditional LASIK and even other bladeless LASIK methods.
For patients with extreme cases of nearsightedness, Carolina Vision Center now offers the Visian Implantable Contact Lens as well. This invisible lens works in a similar manner to a traditional contact lens, but it is implanted inside of the eye and not placed on top of the eye. Therefore, the lens requires no maintenance, and it is more permanent and more convenient than glasses or contact lenses. A meticulous examination is provided to determine the best option for vision correction surgery.