Nevada Eye Consultants - Read our Reviews
Jamison J. Engle, MD, is a board-certified ophthalmic surgeon dedicated to helping patients gain freedom from glasses and contact lenses. A respected cornea, cataract and refractive surgery specialist, Dr. Engle spent years training under some of the most renowned leaders in the field of ophthalmology. He completed prestigious programs at the Jules Stein Eye Institute at the University of California, Los Angeles, and the University of Colorado. His background and experience help him deliver excellent LASIK outcomes to many satisfied patients.
Dr. Engle is renowned for his commitment to upholding the highest medical standards and only offering the safest, state-of-the-art, FDA-approved technology for correcting and treating vision. In addition to performing laser vision correction, Dr. Engle is also an author who has published articles on topics such as the use of the femtosecond laser in ocular surgery and corneal topographic analysis.
Offering cutting-edge surgical procedures and superior medical care, Dr. Engle of Nevada Eye Consultants is a "clear choice" for vision correction treatment and surgery.
To schedule a consultation with Dr. Engle, contact Nevada Eye Consultants at (888) 723-9284. Learn more about the cost of LASIK and your financing options.
More about Laser Vision Correction at the Nevada Eye Consultants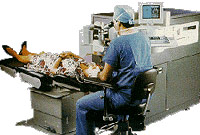 Prior to any surgical procedure, Dr. Engle PERSONALLY conducts a thorough eye examination and consultation to ensure each patient safely obtains excellent results.
For LASIK, Dr. Engle uses the VISX S4 Smoothscan Excimer Laser with wavefront-guided technology. This advanced technology allows for precise measurement of each patient's unique corneal curvature, which personalizes the procedure and helps patients achieve better visual quality than with glasses or contact lenses.
Dr. Engle also performs intraocular lens surgery. He offers the AcrySof ReSTOR and ReZoom lenses which help cataract patients and middle-aged adults regain clear vision for both distance and near objects without the use of glasses or bifocals. For those patients with thin corneas or high myopia who do not qualify for LASIK, Dr. Engle offers the Visian ICL, Implantable Collamer Lens.
No interest financing offered through CareCredit. Estimate payments with our Payment Calculator.
Read More Reviews
Check out all the latest LASIK reviews for Dr. Engle and his team at the Nevada Eye Consultants: