LASIK in San Antonio, Houston, Edinburg, Harlingen and the Rio Grande Valley
Carlos Manrique De Lara, MD, FACS, is a renowned laser vision correction specialist who has completed over 50,000 LASIK surgeries. Dr. Manrique De Lara has been featured on numerous television programs and is proud to have performed the Rio Grande Valley's first LASIK procedure live on Channel 5 news. For years patients throughout the San Antonio area, including sports figures, radio hosts, local news reporters and fellow doctors have trusted Dr. Manrique De Lara with their vision correction needs. A board-certified ophthalmologist, Dr. Manrique De Lara combines expertise and skill with state-of-the-art technology to promote optimum vision correction results.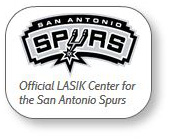 Dr. Manrique De Lara believes that establishing trust and alleviating his patients' concerns is paramount to successful vision correction. Therefore, the first step is developing a personal relationship with his patients. Dr. Manrique De Lara personally takes the time to answer his patients' questions and explain the procedures he performs.
Contact the Manrique Custom Vision Center's Edinburg or the Harlingen branches at (800) 781-4274 to schedule your free, one-on-one consultation with San Antonio LASIK surgeon Dr. Manrique De Lara and learn more about your vision correction options.
Manrique Custom Vision Center
The staff at Manrique Custom Vision Center consists of highly trained professionals who use state-of-the-art technology to help patients achieve their desired vision goals. A number of vision correction procedures are available at Manrique Custom Vision Center, including bladeless Z-LASIK, Intacs, cataract treatment and conductive keratoplasty (CK).
The bladeless, all-laser Z-LASIK procedure combines the precision of the Ziemer FEMTO LDV Z4 laser with the wavefront-guided WaveLight EX500 excimer laser. The Ziemer femtosecond laser is a bladeless alternative to the instrument traditionally used in LASIK to create the corneal flap. Wavefront technology creates a detailed map of the eye, which Dr. Manrique De Lara uses to calibrate the excimer laser for customized treatment.
Those over the age of 40 often develop a type of farsightedness called presbyopia. Dr. Manrique De Lara performs conductive keratoplasty, or CK, to treat this common condition. This procedure involves the controlled release of radio frequency energy to reshape the cornea. Dr. Manrique De Lara also offers Intacs to treat keratoconus (a thinning of the cornea), as well as Panoptix IOL and ReZoom advanced intraocular lenses (IOLs) for the treatment of cataracts.