Serving patients seeking LASIK in Manhattan, Astoria, Queens and the surrounding area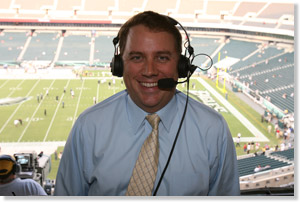 Gregory J. Pamel, MD, is a board-certified ophthalmologist specializing in eye surgery and laser vision correction. He is a fellowship trained corneal specialist who has been performing corneal refractive surgery since the early 1990s. After LASIK surgery was approved by the FDA in 1995, Dr. Pamel was one of the first doctors to perform the surgery in the New York area. This is one reason he is so well-known in the LASIK New York community.
ESPN Sportscaster for the New York Jets, Rangers and Knicks has LASIK with Dr. Pamel
He speaks throughout the United States and internationally about new advances in LASIK and other new refractive technologies and has trained other doctors from around the world in these techniques. He also serves as an investigator in two FDA clinical trials, where new and better types of procedures are developed. He has published several book chapters and scientific articles on new technologies for refractive surgery, such as the Verisyse™ lens implant — the new lens implant to correct high levels of nearsightedness.



Dr. Pamel has appeared on several news stations.
About the Pamel Vision and Laser Group
Dr. Pamel is the medical director of the Pamel Vision and Laser Group. For LASIK, PRK and LASEK surgery, he uses the most advanced laser available — the Ziemer LDV laser and the Wavelight Allegretto Wave laser. The Ziemer LDV laser represents a breakthrough in customized LASIK technology. This laser is the first to be "wavefront optimized" so that the optical characteristics of the eye can be measured and corrected to the most minute levels. The laser beam profile and eye tracking system are specifically designed for maintaining the corneal curvature for each individual patient, thereby correcting visual error and reducing common night vision problems of glare and halos.
Dr. Pamel is a leader in new forms of refractive surgery. He was the principal investigator for the FDA clinical trials for the Verisyse™ lens implant, which is a new lens implant designed specifically for patients with high myopia (nearsightedness) or high hyperopia (farsightedness) who are not candidates for LASIK. For correction of presbyopia, Dr. Pamel provides a variety of treatment options, including several new procedures currently undergoing FDA studies.
In addition to his expertise in refractive surgery, Dr. Pamel is a gifted cataract surgeon and corneal transplant surgeon. His expertise is routinely sought by media outlets, and he has recently been interviewed on ABC, Fox NEWS, UPN, New York 1 and the Discovery Channel.