About the Boxer Wachler Vision Institute - Read our Patient Reviews
Brian S. Boxer Wachler, MD, often referred to as "America's TV Eye Doctor," is a board-certified ophthalmologist and multi-published book author who has devoted his career to vision correction, keratoconus treatments and WhiterEyes®. He is well-known throughout the United States and around the world for his expertise in keratoconus treatments, WhiterEyes® Eye Whitening, FortifiedLASIK™ and other laser vision correction procedures. His leadership in keratoconus treatment and laser eye surgery is highly regarded in the community.
Dr. Boxer Wachler, or "Dr. Brian" as his patients affectionately refer to him, started his distinguished ophthalmology career as Director of the UCLA Refractive Laser Center at the Jules Stein Eye Institute. He speaks widely about advanced Keratoconus treatments, advancements in refractive surgery technology and served as an investigator for many of the FDA clinical trials where new technology was developed.
He has been elected by his peers as one of the "World's Best Refractive Surgeons." He is on the staff at Cedars-Sinai Medical Center and has served as a faculty member at UCLA. Dr. Brian authored the book "Modern Management of Keratoconus" and the forthcoming books "How We Conquered Keratoconus" and "Mastery of Collagen Crosslinking for Keratoconus and Other Disorders." Dr. Brian is the author of "The LASIK Consumer Report," a comprehensive guide that has been read by more than 73,000 people since 2002.
About the Boxer Wachler Vision Institute
Dr. Brian's practice and Institute are located at 465 N. Roxbury Drive, Beverly Hills, CA 90210. For his Fortified LASIK, which he invented, he uses advanced laser technology where the laser is specifically programmed to correct subtle optical irregularities in the eye, which maximizes precision followed by accelerated strengthening designed to optimize long term results. He also performs his many innovative keratoconus treatments at the Boxer Wachler Vision Institute.
Many other eye doctors seek Dr. Brian for their own eye surgery. He was selected to perform eye surgery on many notable celebrities, including Apl. De. Ap from the Black Eyed Peas, Dr. Phil, Seal, Lucy Liu, Laura Linney, Eve Jeffers and Mimi Rogers, as well as a number of professional athletes, including Olympic Gold Medal Bobsled driver, Steven Holcomb.
"Keratoconus Guru"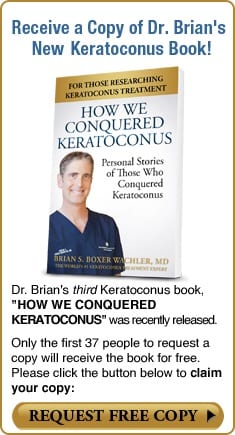 Dr. Brian is also a prominent keratoconus who invented many landmark keratoconus treatments. Please visit www.keratoconusInserts.com to learn more about this condition and how Dr. Brian can help you overcome keratoconus. Dr. Brian offers his proprietary keratoconus treatments that are only available at the Boxer Wachler Vision Institute in Beverly Hills: Intacs® for keratoconus (corneal inserts for keratoconus), Holcomb C3-R® non-invasive crosslinking for keratoconus stabilization, CK for keratoconus astigmatism reduction, insertable contact lenses for myopia reduction (Visian ICL).
Dr. Brian is a leading keratoconus treatment expert. He is considered by many as "The Keratoconus Guru." He was the first in the United States to report the results of Intacs for keratoconus in 1999. For over 13 years, he has performed many thousands of keratoconus procedures on patients from all over the world enabling them to regain their lives from this disease. He published one of largest study to date on Intacs treatment for keratoconus that was used by the FDA in the approval of Intacs for keratoconus. Due to his pioneering work, Intacs is now recognized as a treatment for keratoconus.
Dr. Brian received the 2010 Jules Stein Living Tribute Award for inventing C3-R® in 2003 and performing it on U.S. Olympic Bobsled Driver Steven Holcomb that helped restore his vision enabling him to win the Gold Medal at the 2010 Winter Olympics in Vancouver —this was the first Gold Medal for the United States in bobsled in 62 years. "Holcomb C3-R®" was renamed in Steven's honor on "The Doctors" television show in 2010 because of the world-wide recognition that Steven brought to the procedure.
Dr. Brian was the first doctor in the world (except for Germany) to perform corneal collagen cross linking and in 2003 he invented the 1 day recovery, non-invasive Holcomb C3-R® Crosslinking System.
Dr. Brian has the LONGEST corneal crosslinking track record of any doctor in the United States, Canada, Asia, Latin America and South America and Europe (except for Germany). Would you trust your precious eyes (you only have two of them!) to someone who just learned these procedures to save a few dollars? This is why patients from all over the world who have keratoconus signs come to Dr. Brian to learn about keratoconus causes and undergo treatment.
Schedule a LASIK consultation with Dr. Boxer Wachler to learn more about his training and experience, or to discuss your treatment options and their respective costs.
Beloved Social Media Influencer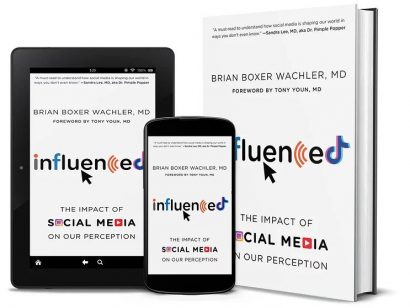 At the start of the pandemic, Dr. Brian's twin 14 year old daughters helped him get started on TikTok. He since has blossomed into one of the most beloved and trusted doctors on social media with over 3.4 million followers. His new hit book Influenced: The Impact of Social Media on Our Perception is the culmination of his experiences, observations, interviews with top influencers, and the latest research on how social media affects us, both positively and negatively, and how we can learn to have social media help us. Amazon link: https://www.amazon.com/Influenced-Impact-Social-Media-Perception/dp/1538164191 and more about the book here https://www.influencedsocialmedia.com/