Our Mission
The mission of Clear Advantage is to provide our patients with the most technologically advanced vision correction options in New England. Our highly experienced surgical staff is dedicated to educating patients on a variety of refractive procedures in a personalized and comfortable manner.
Our Location
Centrally located in Portsmouth, NH, Clear Advantage is just 1 hour from Boston, MA; Manchester, NH; and Portland, ME. Located just two buildings away from Portsmouth Regional Hospital, our location at 155 Borthwick Avenue is in the heart of the seacoast medical community and home to some of the top medical professionals in the world.
Understanding Your Vision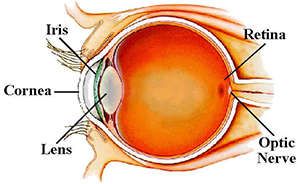 Clear vision is achieved when light rays are focused and processed by the many parts of the eye. Light travels from an object and enters the eyes through the cornea, which is the transparent outer covering at the front of the eye. The cornea helps focus, or "refract," the light, which then passes into the interior of the eye through the pupil. The iris, or colored portion of your eye, opens and closes — like a camera shutter — making the pupil larger at night to allow more light in and smaller in sunlight to decrease brightness. Next, the light passes through the lens of the eye, which changes shape to focus the light onto the retina at the back of the eye.
When looking at nearby objects, more focusing strength is required in order for the image to remain clear. The lens increases focusing strength by becoming more convex in shape, a process called accommodation. All of the eye's parts must be correctly tuned for images to be clearly focused on the retina. The eye's shape is also important in determining clear vision. If the eye is either too long (myopic) or too short (hyperopic), light rays are not focused properly on the retina. If the eye is unevenly shaped (astigmatism), images will also be blurry.
Vision Problems:
Nearsighted (myopia) – images are blurred at a distance and are clearer at close ranges. Eye is longer and the cornea is steep.
Farsighted (hyperopia) – images tend to be blurred at all ranges, but distance vision is the clearest. Eye is shorter and the cornea is flat.
Astigmatism (can be combined with myopia or hyperopia) – blurred images at all ranges. Eye is shaped more like a football than a basketball.
Presbyopia (reading glasses) – generally occurs over the age of 40 as the lens of the eye gets thicker and cannot bend to focus on near tasks.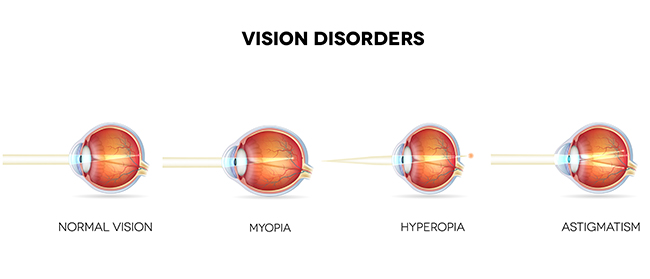 TIMOTHY PETERS, MD, SURGEON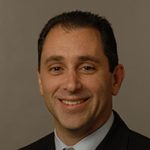 Dr. Peters is a fellowship-trained cornea specialist and one of the most experienced LASIK surgeons in New England, having performed over 35,000 LASIK procedures as of 2023. Because of his broad experience, Dr. Peters has been selected to be a clinical trainer and proctor for other refractive surgeons, nationwide.
Dr. Peters is also a practicing ophthalmologist at Clear Advantage's sister company, Eyesight Ophthalmic Services (www.EyesightNH.com), where he practices general ophthalmic care and specializes in premium cataract surgery. Dr. Peters is one of the first surgeons to perform many of the newest advanced premium cataract lens implants in New England and participates in many clinical research studies. In addition, Dr. Warren Goldblatt and Dr. Peters were two of the first surgeons in New England to perform Glaukos iStent surgery on glaucoma patients during cataract procedures.
JENNIFER LING, MD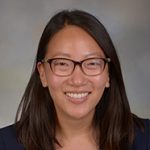 Dr. Ling is a fellowship trained specialist in Cornea and External Diseases. She specializes in cutting-edge partial-thickness (DMEK, DSAEK) and full-thickness cornea transplants (PKP), premium cataract surgery, implantable collamer lenses, and LASIK. She also has expertise in treating Fuchs dystrophy, keratoconus (including collagen cross-linking), infectious corneal ulcers, dry eye syndrome, and neurotrophic keratitis.
Prior to joining Eyesight Ophthalmic Services and Clear Advantage Vision Correction Center, Dr. Ling was a faculty member at the renowned University of Iowa, ranked #7 nationally in the field of ophthalmology. Being at a tertiary referral center allowed her to gain experience managing the most complex ocular conditions. She is proud to have helped train the next generation of ophthalmologists.
SCHEDULE YOUR INITIAL EVALUATION
The first step to learning about vision correction options, and what option may be best for you, is to schedule a comprehensive evaluation with our office. Evaluations are offered Monday, Tuesday, Wednesday, and most Fridays beginning as early as 7:30am and as late as 4:30pm. The evaluation should take no longer than an hour and a half, depending on your questions and any additional testing that may be required. The evaluation is complimentary. Your evaluation can be scheduled by calling our office at 603-501-5000, texting 603-316-2704, or directly through our website at www.ClearAdvantageLaser.com.
The LASIK Process – Two Easy Steps… One Phenomenal Outcome!
STEP ONE – EXPOSING THE CORNEA
The first step in vision correction is to either remove tissue or create a thin flap in the cornea. In order to correct vision, it is necessary to expose the corneal layer beneath the surface, called the stroma. This is where the excimer laser will do its work in reshaping the cornea with a PRK, Advanced LASIK or Customized LASIK treatment.
There are two options to expose the cornea:

FEMTOSECOND LASER: Use of the DaVinci femtosecond laser during vision correction increases safety and precision. A femtosecond is a quadrillionth of a second, and this is the speed of each DaVinci laser pulse. Rather than having a blade cut the corneal flap, the DaVinci uses a fast, pulsed laser to create many microscopic bubbles just below the corneal surface. The laser moves back and forth over the designated treatment area on the eye and creates a round, shallow area of these tiny bubbles. The surgeon uses a special instrument to gently lift that tissue and fold it back out of the way.
PRK: If the cornea is too thin for a corneal flap or if you have undergone LASIK previously and have a thinner residual cornea, then PRK may be an option presented during your evaluation. During PRK, the cornea's epithelial (outer) layer is removed using a special solution to expose the area, and no flap is created. For both PRK and LASIK, the excimer laser then sculpts the stromal layer of the cornea to correct your refractive error. Though PRK recovery takes a bit longer than recovery from methods utilizing flap creation, the procedure is still commonly performed and offers advantages over LASIK for some patients.
STEP TWO – RESHAPING THE CORNEA
During the evaluation, our doctor will calculate the treatment option that will offer you the best visual results. This is determined by your prescription, the thickness of your cornea, your astigmatism, and the amount of aberrations recorded during your evaluation.
VISION CORRECTION OPTIONS AVAILABLE: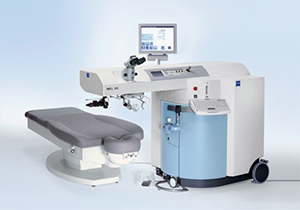 ADVANCED LASIK WITH THE MEL80 SYSTEM BY ZEISS
Clear Advantage is the first and only practice in New England offering advanced LASIK treatments using the ultra-precise Zeiss Mel80 system. As of August 2006, this was the latest laser to be approved by the Federal Drug Administration. The MEL80™ is a fifth-generation laser and one of the fastest lasers in the world.
The MEL80™ Shortens the LASIK treatment time considerably. This shortened exposure time helps enable a faster visual recovery. The MEL80™ also has a new, ultra-fast eye tracker. This laser has the smallest spot size of any US laser with a 0.7mm Gaussian beam. Smaller treatment spots are analogous to having more pixels on your TV screen to enhance the resolution. This feature allows the finest corrections, with very smooth customized treatment surfaces. In addition, the MEL80™ laser incorporates treatment optimization tools to maintain the round contour of the cornea, which improves vision outcomes under dim light and at night.
THE EVO VISIAN ICL (IMPLANTABLE COLLAMER LENS)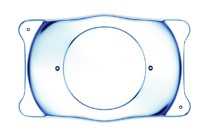 The latest in eye surgery is the EVO Visian Implantable Contact Lens or ICL, which was originally designed for patients who were not candidates for LASIK surgery due to high myopic (nearsighted) prescriptions. But the success of the EVO Visian ICL implant has resulted in an increased interest from people who are also considered good candidates for LASIK.
The EVO Visian ICL is an Implantable Collamer Lens that works with the eye to correct eyesight in patients with moderate to severe nearsightedness. Unlike traditional contact lenses that go on the surface of the eye, the EVO Visian ICL is positioned inside the eye between the iris and the natural lens where it stays indefinitely. With a satisfaction rate of over 99%, many of our patients choose the EVO Visian ICL to get the freedom from their contact lenses and glasses that they've always desired without affecting the cornea, as LASIK can.
The EVO Visian ICL is the procedure of choice for patients who need and expect higher-quality results in performance and safety. In fact, the US military has embraced the EVO Visian ICL because of the reliable visual clarity it achieves. Much like recovery from laser vision procedures like LASIK, results are very fast with the EVO Visian ICL.
PRICING
Unlike other LASIK practices, we don't have a "sliding scale" of costs, which can add costs to your procedure for follow-ups, dry eye treatments or enhancements. In fact, we offer many discounts to make your lifelong vision change more affordable. Pricing is based on your procedure, and that, in turn, is based on the prescription, pupil size, corneal thickness, and aberrations. Until we see you for your evaluation, we don't know which procedure would offer you the best visual results; but we are happy to explain the general characteristics of each.
INSURANCE DISCOUNTS:
Insurance does not generally cover the cost of corrective vision services, but we are on contract with most of the major vision and medical plans to offer discounts. A partial list of contracted plans includes:
Aetna MVP
Anthem National Elevator Industry (NEI)
Avesis NVA
Block Vision NYS-NY State
Blue Cross (all states) Opticare
Carington Optum Health
Cigna Optum Health Allies
Cole Preferred Vision Care
Corporate Vision Program Premier Lasik Network
Davis Principal
Delta Dental Spectera
EyeBenefits Surency Vision
EyeMed Tufts
Federal Blue Cross United Healthcare
GMAC-ResCap VIPA
Harvard Pilgram VSP
Matthew Thorton
Our office will be happy to provide you with an exact price based on discounts that may be applicable through your insurance.
Read our Reviews