Laser Vision Correction at TLC Laser Eye Centers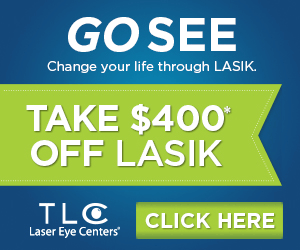 TLC Laser Eye Centers of Greensboro offer conventional, Custom, and Bladeless LASIK. Conventional LASIK is the most common type of laser vision correction and has proven to be extremely effective for the correction of conventional vision errors.
CustomLASIK utilizes wavefront-guided technology and is selected by many patients to correct their vision. The curvature of the eye is unique for each patient and is like an eye fingerprint. During CustomLASIK, a precise measure of the eye fingerprint is made, and an individualized laser beam is created to correct each eye.
TLC Greensboro is one of the few centers in North Carolina to offer Bladeless LASIK, in which a computer-guided laser is used to create the corneal flap. Bladeless LASIK eliminates the handheld microkeratome, for a 100 percent blade-free LASIK experience. Dr. Karl Stonecipher and the TLC Laser Eye Center staff meticulously evaluate each patient to determine the best option for laser vision correction surgery.
To determine if you are a candidate to eliminate your dependence on glasses or contact lenses, contact TLC Laser Eye Centers – Greensboro at (866) 326-2010 to schedule a free LASIK evaluation or book online at www.TLCVision.com.