Laser Vision Correction at TLC Laser Eye Centers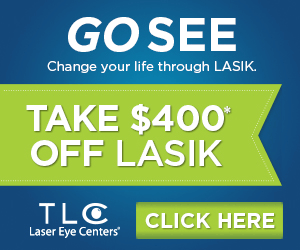 TLC Laser Eye Centers of Fargo offer Conventional, Wavefront Optimized treatments, and Bladeless LASIK. Conventional LASIK is the most common type of laser vision correction and has proven to be extremely effective for the correction of conventional vision errors.
Wavefront Optimized treatments offer customized treatments that incorporate wavefront principles for patients with nearsightedness, farsightedness and astigmatism. Each treatment is tailored to the patient's corneal curvature and prescription. As a result, the wavefront optimized procedures create very smooth and functional zones, which may be of benefit for patients with large pupils who are concerned about their quality of vision after refractive surgery.
TLC Fargo is one of the few centers in North Dakota to offer Bladeless LASIK, in which a computer-guided laser is used to create the corneal flap. Bladeless LASIK eliminates the handheld microkeratome, for a 100 percent blade-free LASIK experience. Dr. Stephen A. Wexler, Dr. Gregory A. Eippert and the TLC Laser Eye Center staff meticulously evaluate each patient to determine the best option for laser vision correction surgery.
To determine if you are a candidate to eliminate your dependence on glasses or contact lenses, contact TLC Laser Eye Centers – Fargo at (866) 326-2010 to schedule a free LASIK evaluation or book online at www.TLCVision.com.