Sponsored Section

John G. Oster, MD, FACS
James Patterson, MD, FACS

TLC Laser Eye Centers – Denver
(866) 326-2010



720 S Colorado Blvd
Suite 140-A
Denver, CO 80246
More About The TLC Laser Eye Centers Denver Eye Doctors - Read our LASIK Reviews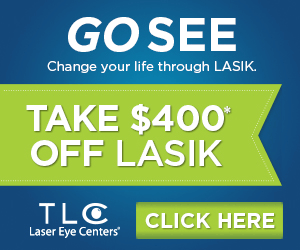 TLC Laser Eye Centers of Denver offer conventional and Custom LASIK. Conventional LASIK is the most common type of laser vision correction and has proven to be extremely effective for the correction of conventional vision errors.
CustomLASIK utilizes wavefront-guided technology and is selected by many patients to correct their vision. The curvature of the eye is unique for each patient and is like an eye fingerprint. During CustomLASIK, a precise measure of the eye fingerprint is made and an individualized laser beam is created to correct each eye.
Drs. John Oster, James Patterson and the TLC Laser Eye Center staff meticulously evaluate each patient to determine the best option for laser vision correction surgery.
To determine if you are a candidate to eliminate your dependence on glasses or contact lenses, contact TLC Laser Eye Centers – Denver at (866) 326-2010 to schedule a free LASIK evaluation or book online at www.TCLVision.com. Get treatment cost info, discuss procedure details and evaluate the recovery process.
More About The TLC Laser Eye Centers Denver Eye Doctors
John G. Oster, MD, FACS, is a board-certified ophthalmologist with extensive training in refractive surgery. He has been recognized as one of the top five percent of refractive surgeons nationwide.
Dr. Oster earned his medical degree from the Albany Medical College and was Chief Resident during his ophthalmology training at Geisinger Medical Center in Danville, Pennsylvania. Dr. Oster continued with sub-specialty training and completed a fellowship in cornea and refractive surgery at the distinguished New England Eye Center in Boston, Massachusetts. While in Boston, Dr. Oster was appointed as a clinical instructor in ophthalmology at the Tufts University School of Medicine and began using the Excimer Laser to treat corneal disorders in 1995.
Dr. Oster has been a participant in the CRS multi-center study to evaluate LASIK for the surgical treatment of myopia. Additionally, he was chosen to be a principal investigator for the LaserSight FDA LASIK clinical trial for myopia or hyperopia, with and without astigmatism. Dr. Oster has been named a VISX Star Surgeon based on performance as a refractive surgeon. Additionally, Dr. Oster practices as a cornea specialist accepting referrals for corneal transplantation and cataract surgery.
Dr. Oster has taught several courses on laser vision correction and has lectured at national meetings. He serves on TLC's surgeon pillar advisory board and also serves as a proctoring surgeon for other TLC surgeons.
Dr. Oster is a member of the American Academy of Ophthalmology, the American Society of Cataract and Refractive Surgery, the International Society of Refractive Surgery, and The Colorado Ophthalmological Society. He holds medical licenses in Colorado, California and Montana and was the first surgeon to perform LASIK at TLC's center in Massachusetts.
Download Dr. Oster's bio in PDF format
James Patterson, MD, FACS, is a board-certified ophthalmologist who has been performing refractive procedures for more than 20 years.
Dr. Patterson earned his medical degree from the University of Colorado in 1981. After serving his medical internship year in Christchurch, New Zealand, he returned to the University of Colorado to complete his residency in Ophthalmology.
Dr. Patterson is an Assistant Clinical Professor of Ophthalmology at the University of Colorado. He is a member and past president of the Colorado Society of Eye Physicians and Surgeons, and is a Fellow of the American Academy of Ophthalmology, and American College of Surgeons.
Download Dr. Patterson's bio in PDF format
Visit www.LASIK.com to find out more about LASIK eye surgery.
Patient Reviews for TLC Laser Eye Centers in Denver
Check out all the latest patient reviews for Drs. Oster and Patterson, and the rest of the TLC Laser Eye Centers Denver team: