Sponsored Section

Andrew E. Holzman, MD, FACS

TLC Laser Eye Centers – Washington DC
(866) 326-2010


1801 K Street NW, Suite B100
Washington, DC 20006
Laser Vision Correction at TLC Laser Eye Centers - Andrew E. Holzman LASIK Reviews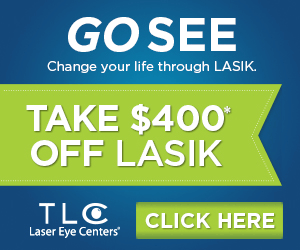 The TLC Laser Eye Centers in the Washington, D.C. metro area offer conventional, Custom and Bladeless LASIK. TLC has centers in Washington, D.C., Maryland (Columbia, Frederick, Gaithersburg and Rockville) and Virginia (Gainesville, Reston, Sterling and Tysons Corner).
Conventional LASIK is the most common type of laser vision correction and has proven to be extremely effective for the correction of conventional refractive errors. However, some patients choose Custom LASIK, which uses wavefront-guided technology. Each patient's eye curvature is unique and serves like an "eye fingerprint." During Custom LASIK, precise measurements are taken in order to create a map of the cornea. The surgeon then uses this individualized map to perform a LASIK procedure that is tailored to the patient.
TLC is one of the few centers in the Washington, D.C. area to offer bladeless LASIK. In lieu of a blade, this popular procedure uses a computer-guided laser to create the corneal flap. Dr. Andrew Holzman and the TLC Laser Eye Centers' staff meticulously evaluate each patient to determine the best option for laser vision correction surgery.
To find out if you are a good LASIK candidate, schedule a free evaluation by calling TLC Laser Eye Centers at (866) 326-2010, or book online at www.TLCVision.com. Learn more about the LASIK procedure, discuss the cost of treatment and financing options, and inquire about LASIK alternatives.
More About the Physician at the Washington, D.C. Area TLC Laser Eye Centers
Andrew E. Holzman, MD, FACS, is board-certified by the American Board of Ophthalmology. Dr. Holzman has performed more than 55,000 LASIK procedures and has been named a "Star Surgeon" by VISX for his performance as a refractive surgeon, placing him in the top 5 percent of refractive surgeons nationwide.
Dr. Holzman received his undergraduate degree in chemistry from Emory University. He obtained his medical degree at the University of Miami School of Medicine and completed his Ophthalmology residency at George Washington University. Dr. Holzman's refractive and corneal transplantation skills were further refined at the University of Pittsburgh Eye and Ear Institute, where he completed a Corneal Surgery Fellowship. Dr. Holzman's memberships include the American Academy of Ophthalmology, Castroviejo Corneal Society, Ocular Microbiology & Immunology Group, International Society for Refractive Surgeons, Eye Bank Association of America and American Academy of Cataract and Refractive Surgery.
Visit www.LASIK.com to find out more about LASIK eye surgery.
Read our Patient Reviews
Check out all the latest patient reviews for Dr. Andrew E. Holzman from Google, Facebook, Yelp and more: