LASIK surgery in Spokane and the surrounding area - Dr. Eugene Iwanyk Reviews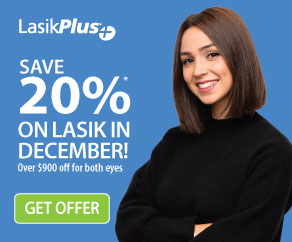 Eugene Iwanyk, MD, is the board-certified ophthalmologist Spokane patients trust for laser vision correction. He has performed more than 62,000 successful LASIK procedures completed, helping patients restore crisp, clear vision and quality of life.
Dr. Iwanyk and the entire staff at LasikPlus Vision Center provide friendly service and the highest standards of professional care. Each patient receives a unique combination of comprehensive surgeon training and experience, along with the best laser technology, a fifteen-year history of excellent vision stability, ultimate affordability, and the most extensive selection of financing plans. LasikPlus was one of the first providers to offer LASIK surgery in the United States, and their surgeons have performed over 1.6 million surgeries.
On the job or off the clock, your vision is your most trusted partner. You could have 20/20 vision with LasikPlus. It's simple, affordable, and frees you from the confines and restrictions of glasses or contacts. Your eyes are your most important tool in serving the greater good. LasikPlus could help you be your best.
To determine if you are a candidate for Spokane LASIK surgery, call (866) 724-6033 to schedule a free consultation.
More About Spokane LASIK Surgery
Each patient is examined and evaluated carefully. Two excimer laser platforms are available for their correction of nearsightedness, farsightedness, and astigmatism: the VISX Star S4 and Allegretto WaveLight. Each laser is equipped with sophisticated eye-tracking technology to precisely track the eye while the laser changes the corneal shape. The availability of these lasers allows the surgeon to choose the best option for your refractive surgery. In addition to LASIK, the surgeons of LasikPlus offer PRK surgery. Click here for more information on LasikPlus technology.