Serving patients seeking laser vision correction including LASIK in Denver and the surrounding area - Read Reviews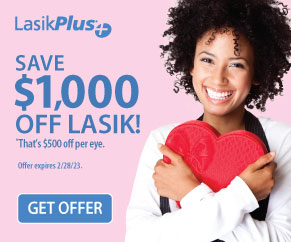 Howard N. Straub, DO, is a board-certified ophthalmologist who has been performing laser vision correction since 2000 and has over 30 years in the field of ophthalmology. He has more than 43,000 laser vision correction procedures completed and 39,000 refractive surgeries. As a LASIK expert, he has participated in teaching over 60 refractive surgery courses to his North American and international colleagues, and has written a textbook chapter on LASIK eye surgery. In addition, he has supervised FDA clinical trials and he holds a device patent in the field of presbyopia (for those in need of reading glasses due to aging). Thanks to his wide breadth of eye care expertise, thousands of patients trust him for all their vision correction needs.
LasikPlus was one of the first providers to offer LASIK surgery in the United States, and their surgeons have performed more than 1.6 Million surgeries. Each patient receives a unique combination of comprehensive surgeon training and experience, along with the best laser technology, a fifteen-year history of excellent vision stability, ultimate affordability, and the most extensive selection of financing plans.
On the job or off the clock, your vision is your most trusted partner. You could have 20/20 vision with LasikPlus. It's simple, affordable, and frees you from the confines and restrictions of glasses or contacts. Your eyes are your most important tool in serving the greater good. LasikPlus could help you be your best.
To determine if you are a candidate for LASIK surgery in Colorado Springs, or to inquire about the cost of LASIK, call 1-877-350-3937 to schedule a free consultation.