LASIK in Albuquerque and the surrounding area - Read our latest reviews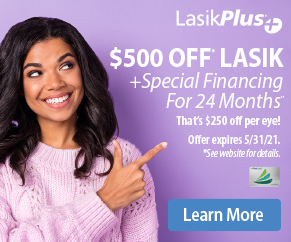 Dr. Howard Straub has been performing laser vision correction since 2000 and has over 30 years in the field of ophthalmology. He has more than 43,000 LASIK procedures completed. As a LASIK expert, he has participated in teaching more than 60 refractive surgery courses to his North American and international colleagues, and has written a textbook chapter on LASIK eye surgery. In addition, he has supervised FDA clinical trials and he holds a device patent in the field of presbyopia (for those in need of reading glasses due to aging).
The experienced surgeons at the Albuquerque LasikPlus have helped numerous patients eliminate or reduce their dependence on glasses and contact lenses by providing them with advanced laser vision correction treatments. They use some of the latest laser technologies and techniques to consistently deliver outstanding, highly rewarding LASIK results that enhance the vision and improve the quality of life of their patients.
Each patient receives a unique combination of comprehensive surgeon training and experience, along with the best laser technology, a fifteen-year history of excellent vision stability, ultimate affordability and the most extensive selection of financing plans. LasikPlus was one of the first providers to offer LASIK surgery in the United States, and their surgeons have performed more than 1.6 Million surgeries.
To determine if you are a candidate for Santa Fe or Albuquerque LASIK surgery, call (866) 724-6033 to schedule a free consultation. Discuss all aspects of treatment, including the procedure and subsequent recovery, to the cost of LASIK and available financing options.
More About Albuquerque LASIK and Santa Fe LASIK Surgery
Find out why more than half a million people are choosing LasikPlus .
Each patient is examined and evaluated carefully. Two excimer laser platforms are available for the correction of nearsightedness, farsightedness, and astigmatism: the VISX Star S4 and Allegretto WaveLight. Each laser is equipped with sophisticated eye-tracking technology to precisely track the eye while the laser changes the corneal shape. The availability of these lasers allows the surgeon to choose the best option for your refractive surgery. In addition to LASIK, he and his medical team offer PRK surgery. Click here for more information on LasikPlus technology.