LASIK Eye Surgery in Manhattan, New York City (NYC) and the surrounding area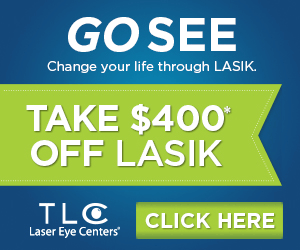 Mark G. Speaker, MD, PhD, is a board-certified, fellowship-trained corneal surgeon who has helped numerous patients permanently resolve their farsightedness, nearsightedness and astigmatism through LASIK. Dr. Speaker has undergone the LASIK procedure himself, and he has treated many celebrities and individuals with vision-intensive occupations, such as lawyers, musicians, actors, firefighters, police officers and professional athletes. Dr. Speaker is among the pioneers of LASIK eye surgery, and he has provided his New York patients with many LASIK eye surgery "firsts."
Although Dr. Speaker has treated many high profile patients, he does not rely on celebrity endorsements and mass advertising. Instead, he lets his stellar reputation and patient referrals bring in new patients looking for the highest quality LASIK treatments and outstanding post-LASIK vision. Dr. Speaker uses his extensive training and experience, along with leading-edge laser technologies, to help his patients achieve vision of 20/20 or better without eyeglasses.
Dr. Mark Speaker: Professional Accomplishments
Dr. Speaker has dedicated his career to the advancement of the field of laser eye surgery. While serving as the Director of the Cornea Service at the New York Eye and Ear Infirmary in the early 1990s, he researched the application of laser energy to correct the imperfections in patients' corneas. At this time, most other eye surgeons were still using a mechanical blade to correct the corneal shape (an approach known as radial keratotomy). Dr. Speaker has been actively involved in numerous clinical trials exploring the benefits of Chiron, VISX, Lasersight and Alcon laser technologies. He played a major role in securing the FDA approval of the laser eye surgery procedure in the United States, and he was also instrumental in the development of the bladeless LASIK procedure with IntraLase.
When performing LASIK eye surgery, Dr. Speaker's first priority is patient safety. He was one of the first LASIK surgeons in the Unites States to use the Oculus Pentacam imaging technology to screen patients for keratoconus — a procedure that enhances the safety of LASIK surgery. Dr. Speaker has also worked on developing techniques that reduce the risk of eye infections during and after LASIK surgery.
As a world-renowned LASIK expert, Dr. Mark Speaker is often asked to lecture on the latest advancements in the field of laser eye surgery. In addition, he has been recognized by New York magazine and Castle Connolly's "America's Top Doctors" directory as one of the best eye surgeons in the United States.
Custom Blade-Free LASIK Treatments at TLC Laser Eye Centers
Dr. Speaker performs LASIK eye surgery only on patients who meet his stringent LASIK eligibility criteria. This approach enhances patient safety and leads to an exceptionally high patient satisfaction rate. After approving patients for LASIK, Dr. Speaker determines which of the two TLC excimer laser systems is the best for their vision correction needs.
Next, Dr. Speaker uses a specialized imaging device to create a very precise map of the cornea. He uses this map to calibrate the excimer laser so that it delivers a customized corneal ablation treatment. In order to eliminate any need for mechanical bladed instruments, Dr. Speaker uses the IntraLase femtosecond laser to create the corneal flap (as opposed to a handheld blade). As a result, his patients receive completely bladeless LASIK treatments that correct their unique refractive errors, often leading to crystal-clear vision.
Comprehensive Eye Care at TLC Laser Eye Centers
TLC Laser Eye Centers offer an extensive array of vision correction and eye care procedures. Dr. Speaker performs cataract surgery with premium multifocal intraocular lenses for mature patients who desire to restore a more youthful vision. The talented surgeon also offers Verisyse and Visian implantable lenses for extremely nearsighted patients who cannot undergo LASIK.
The various implantable lens procedures offered by Dr. Speaker are often a good alternative for patients who desire to achieve clear vision without glasses but are not candidates for LASIK. Although Dr. Speaker is on the leading edge of new laser eye surgery developments, he is very conservative regarding patient selection. For him, safety always comes first. This is why he advises a large percentage of his patients to pursue procedures other than LASIK.