Laser Vision Correction at TLC Laser Eye Centers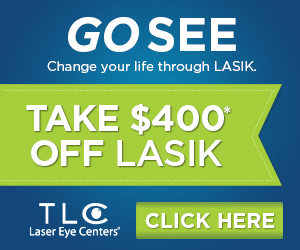 TLC Laser Eye Centers of San Antonio offer conventional, Custom and Bladeless LASIK eye surgery. Conventional LASIK is the most common type of laser vision correction and has proven to be extremely effective for the correction of conventional vision errors.
CustomLASIK utilizes wavefront-guided technology and is selected by many patients to correct their vision. The curvature of the eye is unique for each patient and is like an eye fingerprint. During CustomLASIK, a precise measure of the eye fingerprint is made, and an individualized laser beam is created to correct each eye.
TLC San Antonio is one of the few centers in Texas to offer Bladeless LASIK, in which a computer-guided laser is used to create the corneal flap. Bladeless LASIK eliminates the handheld microkeratome, for a 100 percent blade-free LASIK experience. Drs. Terry and Alsheikh, and the TLC Laser Eye Center staff meticulously evaluate each patient to determine the best option for laser vision correction surgery.
To determine if you are a candidate to eliminate your dependence on glasses or contact lenses, contact TLC Laser Eye Centers – San Antonio at (866) 326-2010 to schedule a free LASIK evaluation or book online at www.TLCVision.com.
More About The TLC Laser Eye Centers of San Antonio Eye Doctors
Oday Alsheikh, MD, is a board-certified ophthalmologist specializing in refractive, cataract and complex cataract surgery.
Dr. Alsheikh earned his medical degree at the Texas Tech Health Science Center. He then fulfilled a residency in ophthalmology at the Oregon Health Science Center before completing a corneal fellowship at the University of California, San Diego.
Dr. Alsheikh currently serves as adjunct clinical professor of ophthalmology at the University of Texas Medical Branch. He is also Diplomat of the American Board of Ophthalmology.
Stuart Terry, MD, FACS, is a distinguished ophthalmologist who specializes in refractive surgery, cataract surgery, and the treatment of glaucoma.
He graduated from the University of Illinois College of Medicine in 1968 and completed his residency in ophthalmology at the Washington University School of Medicine in 1972. While in the U.S. Air Force, he served an instructor for the Ophthalmology Residency Program at Wilford Hall Medical Center, San Antonio, Texas.
Dr. Terry was awarded as a VISX Star Surgeon, an honor reserved for the top five percent of refractive surgeons nationwide. Certified by the American Board of Ophthalmology and the American College of Eye Surgeons, Dr. Terry serves a Clinical Professor of Ophthalmology at the University of Texas Health Science Center in San Antonio. He is a former Chairman of the Department of Ophthalmology, Baptist Healthcare Center and served as President of the San Antonio Society of Ophthalmology and is a Fellow of the American College of Surgeons. He is the current Regional Medical Director of TLC Laser Vision Centers in San Antonia, Texas.
Dr. Terry has published numerous scientific papers, lectured to professional colleagues throughout the country, and conducted scientific research on the treatment of various eye conditions.
Visit www.LASIK.com to find out more about LASIK eye surgery.