LasikPlus Vision Center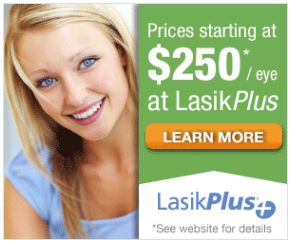 Dr. Gerald Horn and Dr. D. King Aymond are board-certified ophthalmologists focusing on laser vision correction surgery. These surgeons are some of the most experienced in Illinois and are considered leaders in the field of laser refractive surgery. Collectively, Drs. Horn and Aymond have performed more than 124,000 laser vision correction procedures. Dr. Aymond has been performing laser vision correction for 18 years and in total has performed more than 55,000 laser vision corrections. He was the first physician in Wisconsin to perform PRK, a type of laser vision correction, on an FDA-approved excimer laser, and he performed the first LASIK procedure in Wisconsin. In addition, he has participated as an investigator in seven FDA clinical studies on LASIK and PRK.
At LasikPlus, each patient receives a unique combination of comprehensive surgeon training and experience, sophisticated laser technology, a fifteen-year history of excellent vision stability, ultimate affordability and the most extensive selection of financing plans. LasikPlus was one of the first providers to offer LASIK surgery in the United States, and their surgeons have performed more than 1.6 Million laser vision correction surgeries.
On the job or off the clock, your vision is your most trusted partner. You could have 20/20 vision with LasikPlus . It's simple, affordable, and frees you from the confines and restrictions of glasses or contacts. Your eyes are your most important tool in serving the greater good. LasikPlus could help you be your best.
To determine if you are a candidate for LASIK surgery in Chicago, call (866) 724-6033 to schedule a free consultation.