Serving patients seeking laser vision correction including LASIK in Hartford and the surrounding area - Read Reviews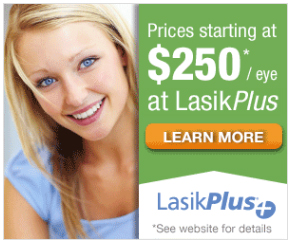 Anthony Salierno, MD, is fellowship trained in refractive surgery and has been performing laser vision correction since 2003. In total, he has performed more than 23,000 laser vision corrections. Dr. Salierno was named Resident of the Year in Teaching in 1999 and was also named chief resident during his residency at Montefiore Medical Center. His commitment to patient education and satisfaction helps him provide exemplary vision results for all of his patients.
Each patient receives a unique combination of comprehensive surgeon training and experience, along with the best laser technology, a fifteen-year history of excellent vision stability, ultimate affordability and the most extensive selection of financing plans. LasikPlus was one of the first providers to offer LASIK surgery in the United States, and their surgeons have performed more than 1.6 Million surgeries.
On the job or off the clock, your vision is your most trusted partner. You could have 20/20 vision with LasikPlus. It's simple, affordable, and frees you from the confines and restrictions of glasses or contacts. Your eyes are your most important tool in serving the greater good. LasikPlus could help you be your best.
To determine if you are a candidate for Hartford LASIK surgery, call (866) 724-6033 to schedule a free consultation.