Serving patients seeking cataract surgery in New Delhi, India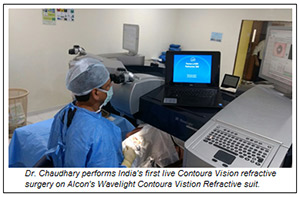 Eye7 Hospitals have been at the pinnacle of quality eye-care for over 27 years. The Eye7 chain has rapidly expanded over the years and has four specialist centers that are accessible in every corner of New Delhi. These centers offer cutting-edge facilities and services of skilled specialists and have a name that is renowned around the world.
We at Eye7 recognize the uniquely important role the sense of vision plays in achieving a fulfilled life. We are dedicated to offering high-quality care to ensure optimal eyesight. Our team of 30 highly-trained surgeons have won appreciation from our patients and laurels from the industry for their unparalleled commitment towards eye care. We take pride in our achievement of over a 100,000 successful surgeries at our centers.
We offer super-specialty consultancy in multiple areas such as specs removal, cataract, glaucoma, cornea, retina, squint, and oculoplasty. Patients travel from all over the world to visit our centers, including Europe and the USA as well as Gulf and African countries, and have returned satisfied with their improved vision.
Restoration of good vision is both an art and a science. When requiring vision correction, you look for safety standards, confidence and trust in the hands of experienced and skilled surgeons. We bring all of it together with the latest international technologies and offer quality care at economical prices.
Eye7 Hospitals are one of the few institutions in the city of Delhi that house cutting-edge technologies like the LenSx (Alcon-USA) Bladeless Femtosecond laser for cataract surgery, Contoura Vision refractive suit for specs removal and the femtosecond laser FS 200 (Wavelight-Germany) and EX500 laser (Wavelight-Germany) for bladeless Lasik surgery. Our well-equipped facilities make us a one stop destination for all your eye care needs.
The entire Eye7 team is devoted to the cause of bringing light to the life of our patients and will zealously work towards offering an enriched experience to all those who come through our doors.