Serving patients seeking custom cataract surgery with presbyopia correcting multifocal lenses in Orange Park, Ponte Vedra, Jacksonville and throughout Florida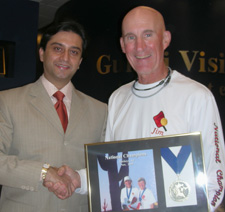 World-wide Cataract Patients
of Gulani Vision.
Arun C. Gulani, MD, MS, is an internationally recognized, board-certified ophthalmologist and the founder of the Gulani Vision Institute, a state-of-the-art LASIK and cataract eye surgery facility serving the needs of patients from Northeast Florida and throughout the world. A renowned vision correction expert, Dr. Gulani specializes in both cataract and laser vision correction surgeries. He has been listed in Forbes magazine as one of the "Top Ten Laser Eye Surgeons" in the entire country. Dr. Gulani is widely regarded as a "Doctor's Doctor." Over the course of his career he has been honored with awards from the American Society of Cataract and Refractive Surgery, the Business Journal, Becton Dickinson, Bausch & Lomb and many other organizations. He is regularly invited to teach eye surgeons at major conferences and specialized forums around the world. Dr. Gulani's prominent standing in the field of eye surgery is well balanced by his impeccable bedside manner and gentle touch, which continue to attract vision correction patients from around the world.

RK patient seeks Dr. Gulani and sees with Multifocal Lens
Dr. Gulani has dedicated his career to the latest advancements, education and research in the field of vision correction surgery. He has invented award-winning ophthalmic surgical instruments, his work has been published in some of the most prestigious medical journals nationwide and he is frequently invited to help other ophthalmologists advance their proficiency in the latest refractive surgery techniques. He teaches eye surgeons worldwide that "no cataract surgery should be routine."
"Cataract surgery is an endeavor to help patients see what they have been missing and also an opportunity to plan for the best vision they can have for the rest of their life." —Gulani AC, MD
Dr. Gulani's Approach to Cataract Surgery
As a leading Jacksonville cataract surgery provider, Dr. Gulani approaches the eye as if it were a camera, carefully evaluating its optics and performing a range of leading-edge diagnostic tests to determine which technologies and procedures should be used. This approach allows him to design a customized cataract surgery plan that addresses the patient's unique visual imperfections.
Dr. Gulani performs custom cataract surgery using the advanced "no-needle, no-patch, no-stitch" technique with computer-programmed high-speed ultrasound and surgical instruments that he invented, also known as Diamond instruments. During the procedure Dr. Gulani carefully extracts the eye's clouded lens (cataract) and replaces it with an IOL. He offers a range of leading-edge IOLs, including monofocal, toric, multifocal and accommodating, presbyopia-correcting lenses. Premium IOLs provide a range of vision at near and distance, thereby allowing a post-cataract surgery patient to perform most daily activities without the need for eyeglasses.
Dr. Gulani also performs a range of laser vision correction procedures, including LASIK, LASEK, Epi-LASIK, PRK, ASA and INTACS for keratoconus. He sees a global clientele.
Keratoconus to 20/20: Dr. Gulani on CBS NEWS
To schedule a one-on-one consultation with Dr. Gulani and learn more about your vision correction options, please contact Gulani Vision Institute at (888) 650-0744.
Cataract Surgery Patients Describe Their "Gulani Vision" Experience