Serving patients seeking blade-free cataract surgery (laser cataract surgery) with Toric (astigmatism correcting lens), PanOptix, Light Adjustable Lens IOLs in Fayetteville and the surrounding area.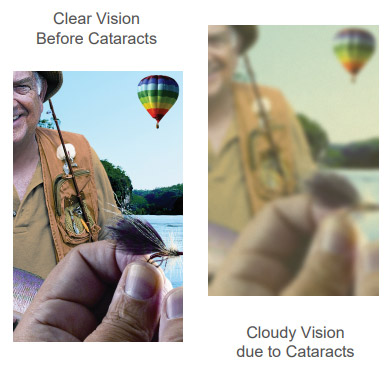 When cataracts occur, the sharp images and bright colors that you have always enjoyed become blurry and dull. Quality of night vision also decreases, and you may notice glare and halos around lights.
Developing a cataract doesn't mean a permanent loss of visual quality or having to give up the things you love. Today's technology has made cataract surgery one of the most successful procedures available in terms of restoring your vision and improving your quality of life. In fact, it is the most commonly performed surgery in the United States.
During cataract surgery, Dr. Woodcock first dissolves and removes your cloudy, hardened natural lens through a process called phacoemulsification. He then replaces it with an artificial intraocular lens, or IOL. The procedure is fast and painless, and it is performed on an out-patient basis in our local surgical center. Dr. Woodcock also offers the latest laser cataract surgery, also known as bladeless or blade-free cataract surgery.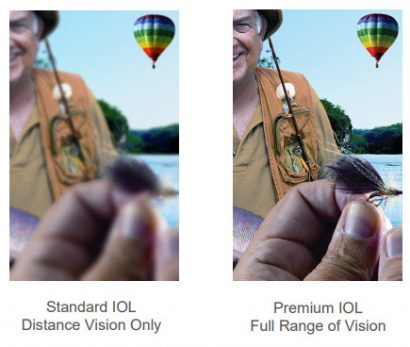 Dr. Woodcock offers his patients the choice of a standard, monofocal IOL or a Premium IOL to replace the natural lens. A standard IOL does not have the ability to provide a full range of vision. Most patients who choose the standard IOL usually have both eyes corrected for distant vision but have to rely on readers or bifocal glasses for intermediate and near vision after their surgery.
Premium IOLs can reduce or eliminate your dependence on glasses. They can give you back your full range of vision,allowing you to see near, far and everywhere in between. Carolina Vision Center offers a number of premium IOLs, including PanOptix and Light Adjustable Lens. Your eye's distinct characteristics, as well as your lifestyle needs determine which premium IOL is right for you.
Medicare and private insurance companies cover the cost of cataract surgery and a standard IOL. Insurance does not cover the costs of upgrading to a Premium IOL, but will allow patients to pay out-of-pocket for the additional costs associated with the Premium IOL. Our staff will be happy to discuss the costs associated with the Premium IOL as well as financing options available to you at Carolina Vision Center.
What Do Patients Say About Dr. Woodcock and Carolina Vision Center?