Serving patients seeking cataract surgery with AcrySof ReSTOR, ReZoom, Tecnis, Crystalens IOLs in Miami and the surrounding area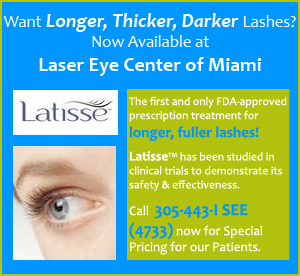 Dr. Gabriel Lazcano of the Laser Eye Center of Miami has helped countless patients gain clearer sight through cataract surgery. As a skilled cataract surgeon, he uses precision and care to safely remove the eye's natural lens that has been clouded with a cataract, replacing it with either a standard, clear lens implant or a premium intraocular lens implant (IOL).
Premium IOLs are the newest in intraocular lens technology. The IOL options offered at the Laser Eye Center of Miami include the Restor multifocal lens, which simultaneously corrects both reading and distance vision and the Restor Toric intraocular lens, which corrects the patient astigmatism.
Along with providing cataract surgery, Dr. Lazcano also offers bladeless LASIK surgery, a precise and painless surgery that promises at least 20/20 vision so that patients no longer have to rely on glasses and contact lenses to see clearly. This bladeless LASIK procedure uses the latest in refractive surgery technology, including the WaveLight® Refractive Suite, with the precision of its femtosecond and excimer lasers for a treatment that is customized to fit each individual patient's needs.
The Laser Eye Center of Miami is a comprehensive eye care facility offering glaucoma diagnosis, treatment and surgery (using the Selecta II Laser), pterygium surgery and oculoplastic surgery.
To schedule a free consultation with Dr. Lazcano and learn more about cataract surgery, contact the Laser Eye Center of Miami by calling (305) 443-4733.
What Do Patients Say about Dr. Lazcano?