Cataract Surgery in Los Angeles – Find the Best LA Cataract Surgeon for You
11620 Wilshire Boulevard, Suite 711
Los Angeles, CA 90025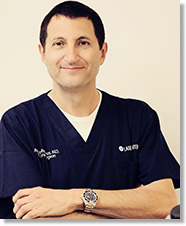 1127 Wilshire Blvd., Suite 1209
Los Angeles, CA 90017

LA Cataract Surgeons Who Perform Surgery on Los Angeles Cataracts Patients
Cataract surgery in Los Angeles, as well as around the world, is a miracle of modern science. During a procedure that requires less than 20 minutes, the best LA cataract surgeons can remove the diseased cloudy natural lens and replace it with an artificial lens, called an intraocular lens or IOL. In order to remove the natural lens and replace it during cataract surgery, a small incision is made in outside area of the eye. An instrument is inserted through the small incision, called a phacoemulsification device. This device emulsifies the natural lens that has cataracts, and sucks out the lens material. Then the IOL is inserted through the incision and placed in the eye where the natural lens had been.
Premium Cataract Surgery in Los Angeles
Several different types of IOLs can be used to treat Los Angeles cataracts patients during cataract surgery. The standard lenses, called monovision IOLs, can correct the patients for distance vision. The newer top IOLs, such as Crystalens, AcrySof ReSTOR and ReZoom, can be used to correct both near and distance vision.
Many of the best Los Angeles cataract surgeons offer other procedures, such as facial cosmetic surgery. Some of these include eyelid surgery and Botox injections. If you have an interest in LASIK in Los Angeles or finding Los Angeles plastic surgeons, then visit the sister sites for All About Vision.
Visiting Los Angeles for Cataract Surgery
Cataract patients have a wide array of high quality cataract surgeons to choose from in LA. Many of the best doctors throughout the Los Angeles area, including Santa Monica, Pasadena, Downtown LA or West LA offer surgery in their own outpatient surgical facility. Cataract surgery typically does not require an overnight stay in a hospital and for those visiting Los Angeles for surgery, the many attractions throughout LA will be available for the patient immediately after surgery. Los Angeles has a great zoo and many area sports teams, including the LA Dodgers and the Los Angeles Lakers. The Lakers play at the Forum in downtown LA and the Dodgers play in an area known as Chavez Ravine. These attractions would be a great place to start enjoying the new vision provided by a cataract surgery or LASIK Los Angeles specialist.