Serving patients seeking cataract surgery with Crystalens, Trulign, Tecnis Multifocal and Toric IOLs in Southern New Hampshire, Northern Massachusetts and Southern Maine including Portsmouth, Somersworth and Exeter New Hampshire.
Eyesight Ophthalmic Service was founded in 1983. We are southern New Hampshire's leading provider of eyecare for adults and children, specializing in:
Cataract Surgery & Premium Lens Implants, Macular Degeneration, BOTOX and Eyelid Surgery, Glaucoma, Routine Eyecare, Contact lenses – Designer frames and sunglasses, Diabetic Eye Disease, Dry Eye Treatments, Crosslinking/Keratoconus, and Laser Vision Vision Correction.
Thank you for choosing our practice. At Eyesight Ophthalmic Services, we strive to provide the best quality of care and customized vision solutions for our patients. This specific information is offered to our patients 40 years old and over so that you have the opportunity to be fully informed before any decisions need to be made.
Cataracts are a normal part of the aging process. The older you get, the more likely you are to develop a cataract. Being diagnosed with a cataract may seem frightening at first. However, due to advancements in technology, cataract surgery is considered to be one of the safest and most successful surgeries in the United States today.
A cataract is a clouding of all or part of the normally clear lens within your eye, which results in blurred or distorted vision. Cataracts are most often found in persons over age 55, but they are also occasionally found in younger people. A cataract can progress until eventually there is a complete loss of vision in your eye, and neither diet nor laser treatments such as LASIK will make the cataract go away. Cataract surgery can help restore your vision long before you experience loss of vision significant enough to interfere with your daily activities.
At Eyesight Ophthalmic Services, we offer the most advanced options to customize your vision with cataract surgery, based on your individual lifestyle needs. Based on our findings during your upcoming examination, we will inform you of which lens is the best option for you. Below, you will find information that helps you understand your different options:
Basic monofocal lens implant
Toric (astigmatism correcting) premium lens implant
Tecnis Multifocal® premium lens implant
Symfony Tecnis Extended Range of Vision IOL and Toric Extended Range of Vision
Trulign® Accommodating Toric IOL premium lens implant
BASIC MONOFOCAL LENS IMPLANTS
With single-vision lens implants, there is a very high likelihood that you will need glasses for most near and intermediate-vision activities after surgery, even if you do not wear near-vision glasses before surgery. These activities include such things as reading, applying makeup, shaving, sewing, reading, seeing your watch, dialing a cell phone, and baiting fishhooks. In addition, if you have preexisting astigmatism in the eye, you will likely need to wear distance and near glasses for your best vision.
Medicare and most private insurance carriers will pay between 80% to 100% of your cataract surgery and the monofocal lens. This is considered basic coverage.

TORIC / ASTIGMATISM CORRECTING IMPLANTS
A Toric lens is specifically designed to address those who have a significant amount of astigmatism. In years past, cataract surgery removed the cataract, but a patient with high astigmatism still required glasses for distance and near vision. The design of the toric lens makes it possible to reduce or eliminate astigmatism and significantly improve uncorrected distance vision. Most patients only require over-the-counter reading glasses after surgery.
ACCOMMODATING LENS IMPLANTS
As we age, even if we have good distance vision, we may still require glasses for intermediate (computer distance) and near vision. Near and intermediate vision result from the action of the focusing muscle in the eye, called the ciliary muscle. This muscle changes the power and thus the focus of the natural lens. This enables the eye to automatically focus to provide distance, intermediate, and near vision. The bending of the lens is called "accommodation." As we age, the natural lens hardens and cannot bend to allow this range of vision. The Crystalens® , Trulign and Toric accommodating lens implants have flexible hinges that allow it to bend with the ciliary muscle to imitate the way a patient's natural lens used to work. Other IOLs are fixed and remain stationary within the eye.
MULTIFOCAL LENS IMPLANTS
New technology implants, such as the Tecnis®  Multifocal are designed to provide a full range of vision – near, far and everything in between. Based on FDA clinical data, 90% of patients never needed glasses again for any activities. Those who did need glasses needed them only for very specific tasks. The goal of the Multifocal lens is to allow you to live a spectacle-free life, to see things near and far without glasses.
For many cataract patients, multifocal intraocular lenses have worked well and have afforded them a broader range of vision postoperatively. For others, though, the possibility of glare, halo and other qualitative vision problems has led them to shy away from multifocal lenses and stick with monofocal options. There are some lenses, however, that aim to bridge the gap between multifocals and monofocals and allow more vision at different distances while minimizing visual side effects.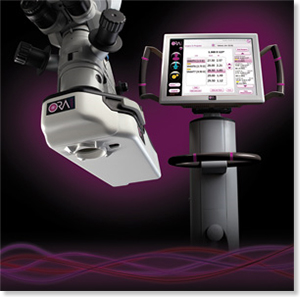 SYMFONY TECHNIS & SYMFONY TORIC LENS FOR PRESBYOPIC CORRECTION
To understand how the Symfony can give more depth of field, it helps to understand the natural steps of accommodation, because the lens actually builds on them to get its effect. When we look up close, we experience the depth-of-field effect whereby our pupils constrict. That constriction ends up giving us the equivalent of about 0.75 to 1 D more near vision than we'd have when looking into the distance because of the pinhole effect.  Building on this natural accommodative effect, the Symfony uses diffractive optics to both improve the quality of vision from the lens and expand the range of distances the lens at which the lens can adequately focus. This is not a multifocal lens, but it does use diffractive optics to do two things: First, it corrects chromatic aberration. Second, it uses these optics to extend the range of quality vision." As Drs. Holladay and Chang explain it, with optics you can't gain an expanded range of vision without losing something in terms of the sharpness of vision. By correcting chromatic aberration, the lens would have extremely sharp distance vision In the Symfony, the diffractive optics are then used to expand the range of vision.  The idea behind chromatic aberration correction is simply to get the colors of the spectrum focused at the same point. Different materials have different dispersive properties with light; some focus colors closely together and some spread them out. The idea is that if you focus all of the colors together, you can have a higher quality of vision. The Symfony takes the acrylic that focuses colors well—meaning it has a low dispersion—and improves upon it.
Surgical Procedure Pricing
The actual surgical fee for cataract surgery (both surgeon's fee and hospital fee) is determined by your particular insurance plan. These base fees are the same regardless of which implant you choose, but additional fees may apply depending upon the lens package you have chosen.
In an effort to assist you in planning for your procedure, Eyesight has put together contact information for each of our participating hospitals. Individual insurance plans can vary widely from policy to policy. We encourage you to contact your insurance carrier directly to garner the most accurate pricing estimates. Your insurance carrier should be able to access and release information to you (their client) which they cannot release to our practice, such as the amount of your deductible that has been met, co-insurance, etc.
To learn more, please call our office at 603-436-1773 or email us at Info@EyesightNH.com to schedule a diagnostic appointment to see if you are a candidate for these exciting procedures. We also encourage you to research the various types of IOLs available by visiting us at www.EyesightNH.com.
We hope to "see" you soon!