Serving patients seeking cataract surgery with Crystalens, Trulign, Tecnis Multifocal and Toric IOLs in Southern New Hampshire, Northern Massachusetts and Southern Maine including Portsmouth, Somersworth and Exeter New Hampshire.
Thank you for choosing our practice. At Eyesight Ophthalmic Services, we strive to provide the best quality of care and customized vision solutions for our patients. This specific information is offered so that you have the opportunity to be fully informed before any decisions are made.
Cataracts are a normal part of the aging process. The older you get, the more likely you are to develop a cataract. Being diagnosed with a cataract may seem frightening at first. However, due to advancements in technology, cataract surgery is considered to be one of the safest and most successful surgeries in the United States today.
A cataract is a clouding of all or part of the normally clear lens within your eye, which results in blurred or distorted vision. Cataracts are most often found in persons over age 55, but they are also occasionally found in younger people. A cataract can progress until eventually there is a complete loss of vision in your eye, and neither diet nor laser treatments such as LASIK will make the cataract go away. Cataract surgery can help restore your vision long before you experience loss of vision significant enough to interfere with your daily activities.
At Eyesight Ophthalmic Services, we offer the most advanced options to customize your vision with cataract surgery, based on your individual lifestyle and needs. Based on our findings during your initial examination and your exam with our surgeons we will help guide you to which lens is the best option for you. Here, you will find information that will help you understand these different options:
Basic monofocal lens implants
Tecnis Multifocal lens implants
Crystalens Accommodating IOL lens implant
Trulign Accommodating IOL lens implant
Toric lens implant
Basic Monofocal Lens
With single-vision lens implants, there is a very high likelihood that you will need glasses for most near-vision activities after surgery, even if you do not wear near-vision glasses before surgery. These activities include such things as reading, applying makeup, shaving, sewing, reading your watch, dialing numbers on a cell phone and baiting fishhooks. If you have a significant amount of astigmatism, you will need glasses at all ranges. Medicare and most private insurance carriers will pay 80 percent of your cataract surgery and the monofocal lens. This is considered basic coverage.

Tecnis® Multifocal IOLs
New technology implants, such as a Tecnis® Multifocal lens, is designed to provide a full range of vision — near, far and everything in between. Based on FDA clinical data, 80 percent or more of patients never need glasses again for any activities. Those who do need glasses need them only for very specific tasks. The goal of a multifocal lens is to allow you to live life less dependent on glasses.
Crystalens® Accommodating IOL and Trulign (Astigmatism) Accommodating IOL
Although LASIK can satisfy the need for distance vision glasses, patients over 45 still require reading glasses for intermediate (computer distance) and near vision. The Crystalens is designed to mimic the eye's natural process of accommodation. Near and intermediate vision result from the action of the focusing muscle in the eye, called the ciliary muscle. This muscle changes the power and thus the focus of the natural lens. This enables the eye to automatically focus to provide distance, intermediate and near vision. As we age, the natural lens hardens and cannot bend to allow this range of vision. The Crystalens is the only lens implant that has flexible hinges that allow it to bend with the ciliary muscle to imitate the way a patient's natural lens used to work. The Trulign lens is a Crystalens that can correct for a moderate amount of astigmatism. Other monofocal IOLs are fixed and stationary within the eye.
Toric IOL
The Toric lens is specifically designed to address those who have a significant amount of astigmatism. In years past, cataract surgery removed the cataract, but a patient with high astigmatism still required glasses for near and distance vision. The design of the Toric lens makes it possible to reduce or eliminate astigmatism and significantly improve uncorrected distance vision.
If a lifestyle less dependent on eyeglasses is important to you, you now have better options. Lifestyle implantable intraocular lenses (IOLs) are available to not only correct your vision for distance, but can also correct for intermediate vision, near vision and/or astigmatism. In addition, after an IOL procedure, any need for cataract surgery later in life is eliminated.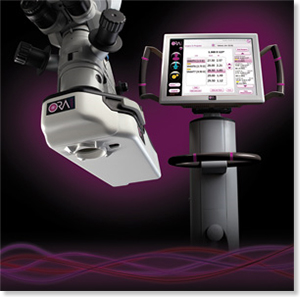 OptiWave™ Analysis Cataract Technology
OptiWave Analysis, formerly known as ORange Technology, is a revolutionary new technology that assists ophthalmologists during surgical procedures on the human eye, such as cataract surgery.
Even with the most sensitive diagnostic equipment, the clouded, hardened cataract lens may alter measurements taken. OptiWave Analysis is unique in its ability to measure the optical aberrations after the cloudy, cataract lens is removed.
Acting like a GPS for your surgeon, OptiWave Analysis works by directing a beam of low intensity laser light into the eye during the surgical procedure after removal of the cataract. The laser light reflects off of the patient's retina, and sensors in the OptiWave Analysis instrument analyze the reflected wave of light exiting the eye, guiding your surgeon more precisely to the intended visual result.
Using OptiWave Analysis, your surgeon can easily take a more precise measurement and make any minor adjustments, if necessary, prior to implanting the new lens. The measurement occurs when and where it matters most — during the surgical procedure, not afterwards. OptiWave Analysis can assist surgeons in selecting intraocular lens power, as well as more accurately correcting astigmatism. When uncorrected, astigmatism causes blurry or double vision and adds to the cost of glasses.
The end result is patients achieve more precise surgical outcomes, and most importantly, an improved quality of vision.
Benefits of OptiWave™ Analysis
There are many important benefits to having OptiWave Analysis technology included as part of your vision correction procedure. These include:
With OptiWave Analysis you are more likely to achieve better results and better vision.
OptiWave Analysis gives your surgeon an added level of confirmation for an optimal outcome.
Better control or elimination of astigmatism.
Improved outcomes after cataract surgery particularly for patients who may have had refractive procedures, such as LASIK, prior to cataract surgery.
A reduced or eliminated need for glasses and contact lenses after cataract surgery, especially for those electing a premium lens option combined with OptiWave technology.
We are proud to offer OptiWave Analysis to patients who have their surgery at Wentworth Douglass Hospital in Dover, New Hampshire, or Frisbie Memorial Hospital in Rochester, New Hampshire.
To learn more, please call our office toll free at 1-888-222-EYES or email us at Info@EyesightNH.com to schedule a diagnostic appointment to see if you are a candidate for these exciting procedures. We also encourage you to research the various types of IOLs available by visiting us at www.EyesightNH.com.
We hope to "see" you soon!