Dr. Michael Furlong provides comprehensive Cataract procedures.
Dr. Michael Furlong is a board-certified ophthalmologist and fellowship-trained Cataract surgeon with a specialization in small incision Cataract surgery, Laser-Assisted Cataract surgery and Cataract surgery with Advanced Lifestyle Lenses. He also specializes in bladeless Custom Wavefront LASIK, PRK, Keratoconus treatment and multifocal lens implants.
Exciting Technology for Cataract Surgery
Dr. Furlong has been providing Cataract surgery since 1994. Since 2013, he has been offering his Cataract patients the option to choose Laser-Assisted surgery. Laser-Assisted Cataract surgery is an exciting advancement that automates certain steps and offers unmatched precision, control and safety. This innovative laser technology allows the surgeon to create completely customizable microsurgical incisions with precision and reproducibility not possible with conventional techniques.
Dr. Furlong recommends laser technology because it makes a difference in the patient experience. The advantages are especially evident if the patient chooses high-tech, premium implants such as presbyopia-correcting multifocal IOLs or accommodating IOLs. These advantages can include better lens placement and therefore more accurate visual outcomes.
The femtosecond laser first maps your eye to create a customized surgical plan with a sophisticated 3-D image. This image offers high-resolution and even cross-sectional images, to make the Cataract surgery as precise as possible. This is important not only for accuracy but also for increasing the likelihood that the incision will be self-sealing at the end of the procedure, reducing the risk of infection.
This specialized surgery can treat patients with cataracts and astigmatism.
Dr. Furlong studied under world-renowned Cataract and refractive surgery leader, Dr. Howard Gimbel, and has taught ophthalmology techniques worldwide.
Dr. Furlong established Furlong Vision Correction in 1998 and has performed more than 37,000 procedures to date.
In addition to Cataract surgery, Dr. Furlong offers refractive lens exchange for patients with presbyopia who wish to correct near and distance vision again allowing patients to achieve clear vision while reducing their dependence on glasses and contact lenses.
With an expert surgeon, state-of-the-art facility and the latest FDA-approved equipment, patients know they are in good hands.
To schedule a one-on-one consultation with Dr. Furlong and learn more about your cataract surgery options, contact Furlong Vision Correction at (888) 271-7421. Furlong Vision Correction's offices are conveniently located at 2107 First Street in San Jose.
Dr. Furlong has received many awards for his outstanding performance in refractive surgery, including being chosen as one of the top 5 Surgeons nationwide out of 920 LVCI refractive surgeons and named one of San Jose's "Top Doctors" in San Jose Magazine by his peers. Furlong Vision Correction was voted the Best Place for LASIK in Silicon Valley by Mercury News readers for seven years. Dr. Furlong was voted Best Lasik Doctor by Santa Cruz Good Times readers for the past three years. He has also received the prestigious Jefferson Award – the "Nobel Prize" for community and public service – for the Furlong Vision Correction Gift of Sight program.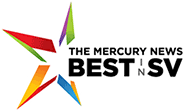 Testimonials