Providing cataract surgery with Crystalens, AcrySof ReSTOR, Tecnis in Ft. Lauderdale and the surrounding area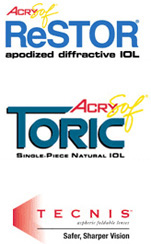 Stanley Braverman, MD, FACS, is a board-certified ophthalmologist who specializes in cataract surgery. As a leading cataract surgeon, Dr. Braverman has been invited to various medical conferences to discuss his advanced techniques. In addition, he has invented a number of eye surgery instruments and serves as a mentor to training ophthalmologists. Dr. Braverman is widely recognized for his surgical skill and has been sought to perform cataract surgery by several well-known personalities, including professional golfer, Gary Player. In addition, he is among the few ophthalmologists to serve as an Assistant Clinical Professor at Bascom Palmer Eye Institute, where he trains surgical residents.
Dr. Braverman performs advanced small-incision cataract surgery to treat patients with nearsightedness, farsightedness and presbyopia. The procedure is performed by creating a small incision in the eye, extracting the clouded lens and replacing it with a premium IOL. Several types of IOLs are available, including Tecnis Multifocal, AcrySof ReSTOR and Crystalens accommodating IOLs, which help Miami cataract surgery patients change focus between objects at different distances.
Intraocular lenses can also be used to treat patients who have presbyopia but do not need cataract surgery. For these patients Dr. Braverman offers presbyopic refractive lensectomy, which makes use of the newest IOL technology and allows patients to see clearly at both near and far distances without glasses or contact lenses.
To schedule a one-on-one consultation with Dr. Braverman and learn more about your cataract surgery options, contact Braverman Eye Center at (800) 956-1385.
What Do Patients Say About Dr. Braverman?