Sacramento Cataract IOL Surgery – Best Treatments – AcrySof ReSTOR, Symfony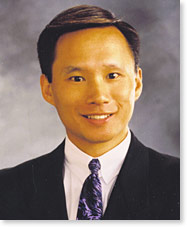 3160 J Street
Sacramento, California 95816

Sacramento Office/Roseville Office:
700 Sunrise Avenue, Suite A
Roseville, California 95661

Cataracts and Surgical Treatments in Sacramento, CA
Cataracts are one of the most common correctable forms of vision loss in Sacramento. Causing a clouding of the natural lens, cataracts block the retina from receiving light from the outside world. Cataracts typically start as a small spec of haze in the natural lens and can worsen over time. When they are so severe that the Sacramento cataracts patient can no longer perform everyday visual tasks, such as driving in glare or walking at dusk, then a cataract surgeon may recommend that the cataracts be removed with surgery. The best Sacramento cataract surgeons offer a range of treatment options, including standard monofocal, multifocal and accommodating intraocular lenses, also known as IOLs.
How do IOLs Differ for Cataract Patients?
The monofocal IOL can correct the patient's vision so he or she can see clearly at one distance. Since most cataract patients are older than 50 years of age, they do not possess the ability to see objects up close without glasses. A monofocal IOL can correct for a patient to see items at a distance or near, but not both. Multifocal IOLs, such as AcrySof ReSTOR and Symfony, can correct a patient's vision for multiple distances, so that after surgery the patient may be able read and drive without glasses. Crystalens is an accommodating IOL that also allows Sacramento postsurgical cataract patients to see over a range of distances without glasses. This lens works similarly to the natural lens, in that, as the eye focuses from distance to near or vice versa, the lens moves in the eye to change the focal length.
Which IOL is Best for the Sacramento Cataract Patient?
A consultation with a top Sacramento cataract surgeon can help the patient to determine which lens is best for him or her. After cataract surgery, if the surgery is performed properly, many patients feel they have better vision than they had before developing cataracts. This "youthful" vision invigorates patients and makes then seek other life-enhancing procedures. The best Sacramento cataract specialists also typically offer facial cosmetic procedures, including blepharoplasty or ArteFill injections. They can also recommend plastic surgery specialists for body enhancement procedures, such as liposuction suction and tummy tuck. The best Sacramento plastic surgeons offer a range of life enhancement procedures for patients after cataract surgery.
Traveling to Sacramento CA for Surgery
Many patients choose to travel to Sacramento for cataract surgery because of the top cataract surgeons located in the area, and since it is a great place to relax after surgery. Patients often recover from cataract surgery rapidly, with many having excellent vision the next day. This new vision allows them to enjoy the unique aspects of Sacramento, including the National Wildlife Reserve, located about 50 miles outside the city. Sacramento is also the state capital of California and sightseers often visit the capital area to catch a glimpse of movie stars that turn politicians.