Refractive Surgery has our Military Ready for Action
Written by Dr. David Evans Last modified on August 6, 2018
In August of last year I wrote an article about how refractive surgery was helping improve our military, a subject that hits very close to home for me as a graduate of the United States Air Force Academy and ocular physiology PhD. (I think it's an interesting read and urge you to check it out before continuing to read this article, as it's something of an update.)
My previous article focused primarily on the role that advancements in refractive surgery like PRK and LASIK have made in helping greater numbers of men and women qualify for military service. However the latest news I want to highlight is tied to military readiness; broadly defined as the ability of the U.S. armed services to perform during combat operations.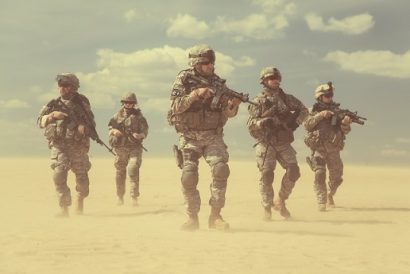 A new study presented at the recent ASCRS ASOA Symposium & Congress suggests that refractive surgery has not only helped open the door to service for vast numbers of men and women. It's also yielded an overall improvement in military readiness.
The study — which was presented and authored in part by Dr. Rose Sia of the Warfighter Refractive Surgery and Research Center, Fort Belvoir, VA — involved 360 active duty military personnel who underwent PRK, LASIK or implantable collamer lens surgery to correct a refractive error. The pre-treatment readiness of participants was measured using a standard performance questionnaire, then compared against results from the same questionnaire administered six months after refractive surgery.
According to Dr. Sia, "active duty U.S. military felt their vision after undergoing refractive surgery significantly improved their military readiness and capabilities." This was corroborated by results of the post-op questionnaire, which evaluated things like "ability to function at night" and "weapons sighting ability," assigning a 5-point score to each. The majority of participants improved their scores during postop evaluation by an impressive 57 percent for "overall individual readiness." Some of the other noteworthy findings include:
41 percent improved their "ability to contribute to the unit's mission."
86 percent improved their "ability to utilize night vision goggles."
65 percent improved their "ability to function at night."
Asked whether, if given a "do-over," the participants would opt for their procedure, 98.8 percent said "yes;" a quite incredible stamp of approval.
Of the roughly 800,000 refractive surgeries performed every year in the United States, the U.S. military is responsible for approximately one in every five, making it one of the top providers. Studies such as this, highlighting the ability of refractive surgery to help improve the readiness of our brave men and women, serves to increase what is already a surging demand.
If you're interested in learning more about the study, check out the recent article on EyeWorld.org.