The Rise of Eye Allergies
Written by Dr. David Evans Last modified on August 6, 2018
Once up on a time, allergies were a seasonal issue. The start of spring would bring with it some nasal congestion, respiratory stress and itchy, red eyes. The increased pollen count associated with spring and the source of the allergic reaction typically lasts through summer. After which you could rest easy until the start of the next season. But if you're an allergy sufferer like me, you might be feeling like the last couple of allergy "seasons" have stretched a little longer than usual. Turns out this is more than a feeling.
This issue was recently addressed at the 2018 American Academy of Allergy, Asthma and Immunology (AAAAI) annual meeting. Experts weighed in noting a growing prevalence of asthma and allergy health problems outside the typical seasonal schedule.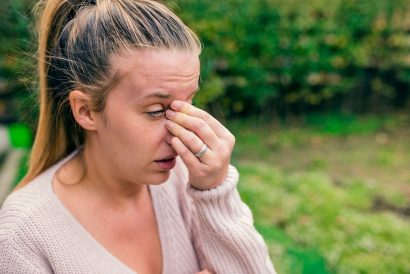 The rise in allergy prevalence can be explained in part by some of the aberrant weather cycles and their associated effects. Increased storms and associated flooding, rampant wildfires (something we're particularly susceptible to here in Southern California) and warmer temperatures are a perfect recipe for allergies. The recent volcanic eruptions in Hawaii and Venezuela, and the toxic smoke and debris they are delivering into the atmosphere, is merely the latest example.
It's worth noting that these studies tend to focus more on respiratory and nasal symptoms. However, experts agree that it's safe to assume ocular effects as well. Even more so given this assumption is backed up by ophthalmologists seeing a surge in the number of patients seeking treatment for conditions like allergic conjunctivitis (pink eye).
Allergy season is getting longer and far more intense in certain regions around the world. As a result, approximately 65 percent of AAAAI members surveyed expect to see allergy-related care increase sharply over the next 10 to 20 years. And those studying the potential impact of changes in climate and weather — like Dr. Leonard Bielory, professor of medicine, pediatrics, and ophthalmology at Rutgers University Center for Environmental Prediction ­— warn that "there are incredible changes coming downstream.
Protect Yourself
In order to help counter this growing allergy trend, ophthalmologists are encouraged to be even more proactive in educating patients about how best to protect their eyes against allergy-related issues. But there are steps that patients can take as well to help protect themselves from the nuisance of allergies.
We put together a great slideshow last year featuring 5 tips for tackling eye allergies, but there are some additional measures you can take, including:
Identify Your Triggers: Different people have different allergy triggers. I'm particularly sensitive to freshly cut grass, which means that I let our landscaper take care of mowing the lawn during the summer to avoid or minimize my allergic response. You can work with your eye doctor to get a sense of your triggers, which can better help manage your allergy cycle and avoid stressors. For example, there are apps that track pollen levels at specific times of day. If you typically ride your bike in the morning, but there's a high pollen count at that time of day, perhaps you'd be better suited for that ride later in the day.
Be Aware of the Season: Allergy sufferers often schedule appointments before the start of allergy season. But as I've mentioned above, the season is shifting, meaning that perhaps your schedule should as well.
Tracking the season and identifying your triggers will make it considerably easier for you to protect against allergy attacks.
Consult an Allergist: Ophthalmologist are well-quipped to manage the ocular symptoms of allergies, but what about respiratory and/or nasal symptoms? If you are particularly sensitive to allergens, you may consider meeting with a specialist in the diagnosis and treatment of allergies.
For more information, check out 5 tips for tackling eye allergies.
You can also check the pollen count in your location courtesy of this clever tool from AAAAI.