Can Keratoconus Cause Blindness? Let's Ask Dr. Pamel
Written by Dr. David Evans Last modified on August 6, 2018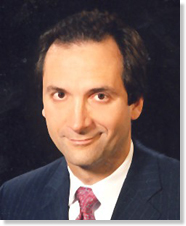 I was speaking with my good friend Dr. Gregory Pamel (who also happens to be a client) the other day and he mentioned that he'd been contacted by the New York Post Society Section famously known as "Page 6"over the weekend. The society pages were seeking comment on Bill Cosby's recent claims that he is now "completely blind" as a result of an eye condition called keratoconus. His defense team is taking the position that his condition doesn't allow him to identify his accusers, while others are accusing Cosby of trying to exploit his condition in an attempt to win sympathy in his ongoing legal battles.
Dr. Pamel noted to Page Six, "I am surprised they are saying he is blind. Keratoconus is not a blinding condition and should not be referred to in that way." Although it's true that keratoconus — a progressive condition that causes bulging of the cornea — can cause blurred vision, light sensitivity and glare, it is a condition that is highly treatable with specialty contact lenses. Even in the worst case scenario in which the cornea has suffered significant scarring, keratoconus can be treated with a corneal transplant. What's more, the progression of keratoconus usually peaks around age 40, after which the visual impairment stabilizes. At 73, Cosby is seemingly well past the point that his keratoconus condition should be causing continued visual impairment. There are other eye conditions such as glaucoma and macular degeneration that can lead to more severe visual impairment, and it is possible to have one of these conditions in addition to keratoconus, but these conditions are also treatable.
Dr. Pamel is a renowned corneal surgeon and leading expert in the field of keratoconus, so it's not surprising to me that he would be sought out for his opinion on such a high profile case. But what I did find particularly interesting is the fact that the Page Six reporter found Dr. Pamel by doing a simple Google search for "Keratoconus treatment New York," for which Dr. Pamel's practice, Pamel Vision & Laser Group, is listed as the #1 search result on Google. The reporter gained insight into the condition by finding a high quality corneal specialist online. Dr Pamel's website ranks well on Google because he has an excellent reputation and due to activities conducted on his website (called SEO or search engine optimization). It's always nice for consumers when medicine, the society pages and the Google algorithm coincide, but not great for the defense team in the case.
Check out the complete Page Six article here.