LASIK in Riverside, Ontario, Corona and Rancho Cucamonga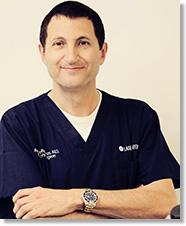 Ontario
3200 Inland Empire Blvd., Suite 140
Ontario, California 91764

8241 Rochester Ave., Suite 120
Rancho Cucamonga, California 91730

If you are interested in receiving information on how to be listed in this LASIK Surgeon Directory, please call 858-454-5505 or email us.
Your LASIK Surgery in Riverside and San Bernardino Counties
The Inland Empire boasts a group of refractive surgeons with experience, facilities and technology that rival any U.S. metropolitan area. Thomas S. Tooma, MD, Jonathan R. Pirnazar, MD and Richard Burns, MD, have established NVISION Laser Eye Centers with many locations, in Ontario in the Inland Empire. Other experienced ophthalmologists in the area include Jean Cheng, MD, Armin Vishteh, MD, Mark Schneider, MD, and Abraham Shammas, MD.
In addition to LASIK, these surgeons routinely perform laser eye procedures such as PR (photorefractive keratectomy), LASEK and Epi-LASIK; as well as non-laser surgeries such as implantation of phakic intraocular lenses. Although LASIK is the best known of these procedures, these are only some of the surgeries that address nearsightedness, farsightedness and astigmatism.
One of these surgeries might be a better choice than LASIK for a prospective patient based on factors such as refractive error and corneal thickness. Some surgeons will strongly consider an implant when a potential patient is at, near or beyond ten diopters of myopia. As well, sometimes a cornea that's thinner than normal will prompt a surgeon to consider a procedure that minimizes the removal of corneal tissue.
Additional Enhancement Procedures in Inland Empire
If you choose to have LASIK, it's likely that you may be interested in other enhancement procedures that may complement the youthful, glasses-free image that results from laser eye surgery. You might find these resources helpful: Consumer Guide to Plastic Surgery provides comprehensive information breast augmentation; All About Facial Rejuvenation has informative articles about facelift; and Consumer Guide to Dentistry has several great articles that describe dental implants, as well as the pros and cons of various materials from which dental implants are fabricated. Each of those portals also offers dozens of articles on related topics in plastic surgery, dentistry, and skin care. These websites offer reliable information that's been researched by experienced healthcare journalists and reviewed by surgeons and dentists who are experts in the respective areas.
Attractions in Riverside and San Bernardino Counties
If you're traveling for your surgery, especially if friends or family will accompany you, you'll find a number of enjoyable ways to spend time in the Inland Empire. Consider arriving early for a few days of relaxation, or put the following recommendations to use between your surgery and your post-op appointment. If it's the latter, you'll appreciate the easy-going fun at these three Inland Empire gems.
The California Museum of Photography, located in the University of California – Riverside, is a fun and leisurely way to spend an afternoon and it's within easy walking distance of some of Riverside's most popular restaurants. It's also convenient to the Mission Inn Hotel, an architectural gem and national historic landmark that covers a whole city block.
If you enjoy the history of transportation, you'll have a choice of land or air. The Orange Empire Railway Museum has the West's largest collection of railroad cars, locomotives, streetcars and other transportation-related artifacts going back to the 1870s. You can ride trolleys and trains on their working railway every weekend. If you prefer air, March Field Air Museum is located on a former Air Force base and features more than 70 historic aircraft on display both indoors and outdoors.
If you are interested in receiving information on how to be listed in this LASIK Surgeon Directory, please call 858-454-5505 or email us.
Phoenix  | Inland Empire CA  |  Long Beach and South Bay LA  |  Los Angeles
North Bay San Francisco / Santa Rosa  |  Oakland / East Bay SF / Walnut Creek  |  Orange County  |  San Fernando Valley / Burbank / Encino
San Gabriel Valley / Pasadena / Glendale  |  San Francisco  |  San Jose / Mountain View / Silicon Valley  |