Kevin L. Waltz, OD, MD
Anthony J. Lombardo, MD, PhD

TLC Laser Eye Centers – Indianapolis
(866) 326-2010



5875 Castle Creek Parkway, Suite 136
Indianapolis, Indiana 46250
Laser Vision Correction at TLC Laser Eye Centers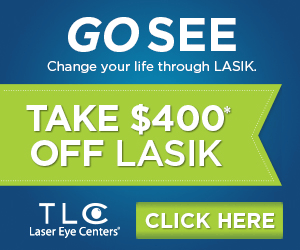 TLC Laser Eye Centers of Indianapolis offer conventional and Custom LASIK. Conventional LASIK is the most common type of laser vision correction and has proven to be extremely effective for the correction of conventional vision errors.
CustomLASIK utilizes wavefront-guided technology and is selected by many patients to correct their vision. The curvature of the eye is unique for each patient and is like an eye fingerprint. During CustomLASIK, a precise measure of the eye fingerprint is made and an individualized laser beam is created to correct each eye.
Drs. Anthony Lombardo, Kevin Waltz and the TLC Laser Eye Center staff meticulously evaluate each patient to determine the best option for laser vision correction surgery.
To determine if you are a candidate to eliminate your dependence on glasses or contact lenses, contact TLC Laser Eye Centers – Indianapolis at (866) 326-2010 to schedule a free LASIK evaluation or book online at www.TLCVision.com.
More About The TLC Laser Eye Centers of Indianapolis Eye Doctors
Kevin L. Waltz, OD, MD, Medical Director at TLC Laser Eye Centers in Indiana, is a board-certified ophthalmologist who was one of the first doctors in Indiana to use lasers to correct nearsighted vision. He graduated from the Indiana University School of Optometry in 1981 and completed two years of additional optometry training at the Southern College of Optometry in 1983. Dr. Waltz received his medical degree with Honors from Meharry Medical College. He completed his medical internship at Vanderbilt University and completed an ophthalmology residency at the University of Florida in Gainesville. Dr. Waltz completed an intensive Oculoplastic Fellowship at Wayne State University.
Anthony J. Lombardo MD, PhD, is a highly experienced ophthalmologist who focuses on refractive, cataract, and corneal surgery. With extensive experience in his field, Dr. Lombardo trains other ophthalmologists in LASIK and cataract surgery. He has served as an investigator for several FDA clinical studies.
During his tenure in medical school, Dr. Lombardo was inducted into the Alpha Omega Alpha Honor Society and received a Superior Achievement Award. He has received numerous national awards including grants from the National Institutes of Health.
Visit www.LASIK.com to find out more about LASIK eye surgery